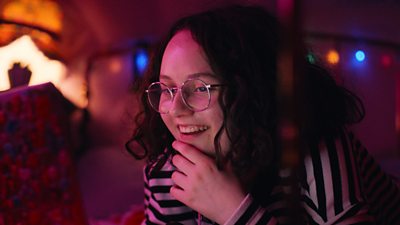 BBC Radio 1's Dev introduces a series of short films that reflect on life in the digital environment, as part of a season marking the 30th anniversary of the World Wide Web.
Taking a closer look at aspects of modern life such as binge watching, internet dating, and the roll-out of rural high-speed internet, the 11 short films - commissioned by BBC Arts and the BFI - explore the digital landscape through the eyes of both digital natives and those who experienced the pre-internet world. The filmmakers reflect on, respond to and capture the experience of living in a digital environment, as well as show how they have been shaped by it or even resisted it.
The films have been shortlisted by the BFI and BBC Arts, and are delivered in partnership with Plimsoll Productions.
Binge Watching
Writer/Director: Nosa Igbinedion. Producer: Leon Mayne
A drama set in the near future, where virtual reality allows a person to see life through the eyes of someone very different, which questions whether our experiences are being shared or commodified.
Roger
Writer/Director: Reuben Hamlyn. Producers: Max Keegan, Ceci Golding, Theodora de Jasay
In this drama about a cutting-edge gig-work app, Lena embarks on her new job as a 'Roger'. Unnerved by her new role, she strives to build a relationship with her employer through unexpected means.
Have We Met Before?
Writer/Director: Oliver Mason. Producer: Syd Heather
Have We Met Before? is a short docudrama exploring the history of sex in the homosexual community from the 1970s to the present day, and how the internet has changed the way gay men meet forever.
Toni_with _an_i
Writer/Director: Marco Alessi. Writer: Mary Antony. Producer: Ksenia Harwood
Toni_with_an_i is an upbeat drama about 14 year-old oddball Toni who is having a tough time with the bullies at school. One day, the internet and a passion for performance saves her.
Without Bounds To Beat
Director/Editor: Oliver Endersby. Producer: Berta Lozano Ferrer
Without Bounds To Beat is an experimental documentary that recounts a town's revival of an ancient folk tradition, placing it in contrast to today's digital technologies.
LilMissCandy786
Writer/Director: Myriam Raja. Producer: Nathanael Baring
In search of an identity, Candy wanders through the digital landscape, leaving fragments of herself behind in this experimental short drama.
My Sweet Prince
Writer/Director: Jason Bradbury. Producer: Grace Carroll
Alcopops. Cigarettes. MSN Messenger. VHS tapes. Boys. Set on the Isle of Wight, fragments of the director's own teenage video diaries collide with the fictional story of 15 year-old Tommy, in this short film about the evolution of identity and online exploration of sexuality in the early 00s.
Outlying
Director/Producer: Kieran Hennigan
The remote Isle of Rum covers 40 square miles but is home to just 30 people. Despite its isolation, a community scheme is about to deliver super-fast, fibre optic broadband.
Skin
Writer/Director: Daisy Stenham. Producer: Romy Waller and Nkem Egbuchiri
Set in the undisclosed future, where developments in technology mean less personal privacy, Skin explores questions of our autonomy and essential humanness - and what it is to experience love and loss in the futuristic age.
ill, actually
Director: Zoë Hunter Gordon. Producers: Celestine Fraser and Hannah Tookey
Three young people share the challenges of being chronically ill in a curated online world. When the internet allows you to be anyone, why be ill?
Janitor Of Lunacy
Director/Writer: Umi Ishihara. Producer: Alice Lewis
Janitor Of Lunacy follows a young woman's descent into a digital wormhole via her obsession with a BDSM account run by an unknown user. The film examines social media's ability to behave organically whilst also distorting subjective reality.
Pictured: Toni_with _an_i
Publicity contact: CR3
Date
Sunday, 17 March 2019
Updates
Confirmed for BBC Four on 17 March at 10pm to 12am