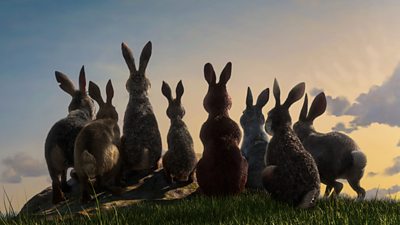 Airing as two special feature-length episodes this Christmas, BBC One's star-studded new adaptation of Watership Down uses Richard Adams' bestselling novel as its source to bring an innovative interpretation to the much loved classic.
Part One.
Adapted for the screen by Tom Bidwell and directed by Noam Murro, this tale of adventure, courage and survival follows a band of rabbits as they flee the certain destruction of their home.
Led by stout-hearted brothers Hazel (James McAvoy) and Fiver (Nicholas Hoult), the rabbits begin their journey from Sandleford Warren, through the harrowing trials posed by predators and adversaries, towards the hope of a better life.
Watership Down also features the vocal talents of:
John Boyega as Bigwig
Olivia Colman as Strawberry
Sir Ben Kingsley as General Woundwort
Tom Wilkinson as Threarah
Gemma Arterton as Clover
Peter Capaldi as Kehaar
Mackenzie Crook as Hawkbit
Anne-Marie Duff as Hyzenthlay
Taron Egerton as El-Ahrairah
Freddie Fox as Captain Holly
Daniel Kaluuya as Bluebell
Miles Jupp as Blackberry
Rory Kinnear as Cowslip
Craig Parkinson as Sergeant Sainfoin
Rosamund Pike as The Black Rabbit Of Inlé
Jason Watkins as Captain Orchis
Gemma Chan as Dewdrop
The series was produced and developed by 42 and Biscuit Entertainment.
Publicity contact: GK
Date
Saturday, 22 December 2018
Updates
Confirmed for BBC One on 22 December at 7pm to 8.40pm