Dwarfs In Art: A New Perspective
Ep. 1/1 -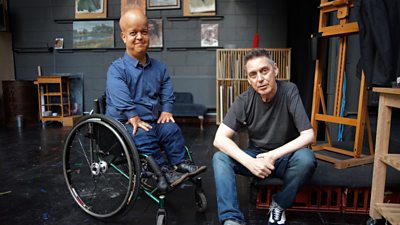 How have the lives of dwarfs changed over centuries, as seen through paintings, sculptures and photography? And what do these representations reveal, not only about people with dwarfism, but about society itself?
Presented by Richard Butchins, himself a disabled filmmaker, artist and writer, this documentary explores the representation of dwarfs, as seen through art, from being seen as figures of fun to being cherished by royalty and nobility.
From the depictions of ancient Greek and Egyptian sculpture, to the remarkable photography of Diane Arbus, Dwarfs In Art: A New Perspective charts an untold and fascinating story of the successive ways society has portrayed dwarfism.
The programme reveals how the lives of people with dwarfism have been uniquely intertwined with mythology in the popular imagination, including how royal courts used to treats dwarfs as 'ornaments' to be collected, and how the story of Snow White and the Seven Dwarfs began in European folklore.
We explore varied depictions of dwarfism in art, including the representations of musician Józef Borulawski that evolved throughout his life, and contrast demeaning characterisations with those that show deference and respect, including the paintings of Diego Velázquez and the modern photography of Ricardo Gil.
Featuring contributions from artists, academics and curators with dwarfism, as well as figures like Sir Peter Blake, who have featured dwarfs in their work, this documentary is a thoughtful study about the treatment of disability in art, offering a glimpse into the lives of people with dwarfism, and revealing the universal concerns that affect us all.
Publicity contact: JJ
Date
Monday, 20 August 2018