Bollywood: The World's Biggest Film Industry
Ep. 1/2 -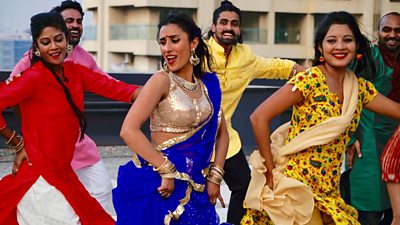 Anita Rani begins her Bollywood journey in Mumbai, where she discovers the secrets behind the world-famous singing and dancing spectaculars.
In the first episode Anita discovers just how important movies are to ordinary people when she visits one of the oldest cinemas in Mumbai and finds herself in the middle of a screaming mob when a Bollywood actor makes a surprise appearance. She meets one of Bollywood's biggest stars, Anil Kapoor, who explains the enduring appeal of the films and gives her a rare glimpse into how the famous dance numbers are shot and joins a leading choreographer who explains the ancient traditions at the heart of modern Bollywood dance.
Action hero Ajay Devgan reveals some of the moves used to create impressive fight scenes, while Bollywood's leading Foley artists teach her the tricks behind creating sound effects for India's biggest action films.
In the showroom of India's leading fashion designer, Manish Malhotra, Anita discovers how important the costumes are to Bollywood and finds herself at a magazine cover shoot with superstar Sidharth Malhotra to understand just how fanatical Indians are about their movie stars.
Finally, she flies to Jodhpur where she's roped into helping the wardrobe department dress a cast of hundreds for an epic battle scene at an ancient fort.
Publicity contact: GJ
Date
Monday, 13 August 2018
Updates
Confirmed for BBC Two on 13 August at 9pm to 10pm