Snatches: Moments From 100 Years Of Women's Lives
Ep. 1-8/8 -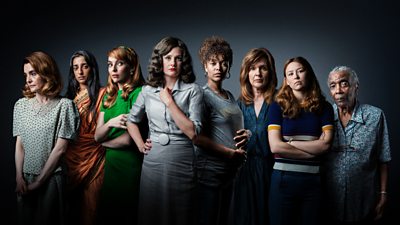 Royal Court Artistic Director Vicky Featherstone curates eight ambitious and challenging monologues, written and performed by women.
The 15-minute monologues are inspired by women who have spoken out, challenged the status quo or made a stand - often at great personal cost.
These are strong unmediated women's voices capturing moments ranging from the pressure of the casting couch to rape in marriage, from the passion of Reclaim The Night marches to a 100th birthday party.
The eight films are written by some of the UK's most exciting female writers including Abi Morgan, Zinnie Harris, Tanika Gupta, EV Crowe, Theresa Ikoko, Charlene James, Vicky Jones and Rachel De-Lahay.
Starring, and pictured L-R: Shirley Henderson (Bridget Jones), Kiran Sonia Sawar (Black Mirror), Jodie Comer (My Big Fat Diary), Romola Garai (Atonement, The Hour), Antonia Thomas (Misfits), Siobhan Finneran (Downton Abbey), Liv Hill (Three Girls), Corinne Skinner-Carter (EastEnders).
The Executive Producer is Debbie Christie made by BBC Studios Pacific Quay Productions and the Directors are Vanessa Caswill (BBC Little Women, Thirteen) and Rachna Suri.
Snatches: Moments From 100 Years of Woman's Lives is part of BBC's Hear Her season, which will mark the anniversary of women's suffrage.
Running Order:
| | | | |
| --- | --- | --- | --- |
| Mon 22:00 |   | COMPLIANCE | ROMOLA GARAI |
| Mon 22:15 |   | OUTSIDE | CORINNE SKINNER-CARTER |
| Tues 22:00 |   | BOVRIL PAM | JODIE COMER |
| Tues 22:15 |   | PIG LIFE | SHIRLEY HENDERSON |
| Weds 22:00 |   | RECLAIM THE NIGHT | LIV HILL |
| Weds 22:15 |   | PRITILATA | KIRAN SONIA SAWAR |
| Thurs 22:00 |   | MULTIPLES | SIOBHAN FINNERAN |
| Thurs 22:15 |   | TIPPING POINT | ANTONIA THOMAS |
Publicity contact: GJ