Who Do You Think You Are - Michelle Keegan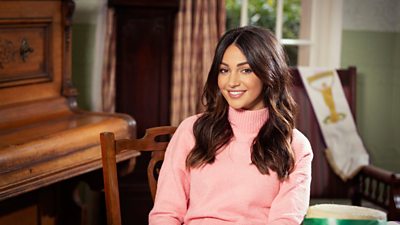 Our Girl star Michelle Keegan uncovers some exceptional women in her family tree in this episode of Who Do You Think You Are?
On her mother's side, Michelle discovers that her Gibraltarian great grandmother Leonor was forced to leave home during the Second World War, when all the women, children and elderly were evacuated from Gibraltar to the apparent safety of London where, less than a month later, the Blitz began.
Further back, Michelle discovers her great-great grandmother Elizabeth Kirwan living in poverty in Manchester at the start of the 20th century. Michelle unearths a special connection to suffragette leader Emmeline Pankhurst, and extraordinary evidence of her great-great grandmother's support for the fight for votes for women, which enabled Elizabeth to vote for the very first time in 1918.
Part of the Hear Her season. The new series of Who Do You Think You Are continues later this summer.
Production Company: Wall To Wall. Exec Producer: Colette Flight.
Pictured: Michelle Keegan at the Pankhurst Centre, Manchester
Publicity contact: IJPR
Date
Wednesday, 6 June 2018
Updates
Confirmed for BBC One on 6 June at 9pm to 10pm