Michael Clark's To A Simple, Rock 'N' Roll . . . Song.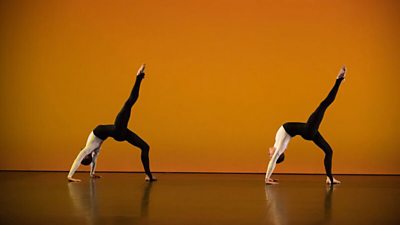 To A Simple, Rock 'N' Roll . . . Song. is the latest work by ground-breaking choreographer Michael Clark.
The triple bill pays homage to three of Clark's greatest musical influences. Act I features commanding choreography, pulsating with a propulsive force to the punk rock of Patti Smith's landmark album, Horses. Act II is a reflection on Erik Satie and his influence on Clark's mentors past and present; the dance meticulous, minimalist and coolly refined. Finally, Act III is an iridescent tribute to David Bowie; intricate, sublime, the mood moving from elegiac to joyously rebellious.
Recorded at the Barbican, London in 2017, this Olivier Award nominated production features arresting choreography performed by a company of fearless dancers including Harry Alexander, who won the Critics' Circle Emerging Artist National Dance Award in 2017.
The production also features a stage adaptation by Charles Atlas - long-time collaborator with Michael Clark - of his multi-channel video installation, Painting By Numbers.
The programme is introduced by the inimitable Jarvis Cocker, who credits Michael Clark with introducing him to the world of dance.
Jarvis Cocker says: "I credit Michael Clark with opening my eyes to modern dance… I'm very grateful to him for that."
Part of BBC Four's Dance Season
Director: Jeff Tudor for 3 minutes West
Producer: Adrienne Liron for 3 minutes West
Commissioning Editor: Emma Cahusac for BBC Arts
Publicity contact: MC4/SRB
Updates
Confirmed for BBC Four at 10pm to 10.55pm on 6 May