The Woman In White
Ep. 1/5 -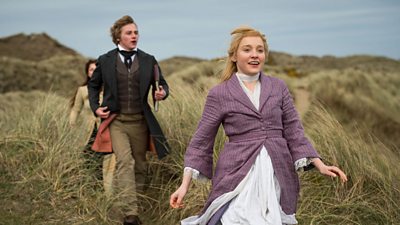 Walter Hartright (Ben Hardy), a young drawing master, encounters a ghostly woman dressed all in white on Hampstead Heath. He offers her assistance, but is later shocked to discover she has escaped from a lunatic asylum.
The next day, Walter leaves London to take up a teaching post in the village of Limmeridge in Cumbria, working for Mr Frederick Fairlie (Charles Dance). There, he learns of a connection between his charming pupils, Laura Fairlie (Olivia Vinall) and Marian Halcombe (Jessie Buckley), and the mysterious woman in white: she's known to the household as Anne Catherick, a mentally handicapped child who grew up in the village.
Over the next few months, Walter and Laura Fairlie fall deeply in love, however she is already promised in marriage to a baronet - Sir Percival Glyde (Dougray Scott). When Laura receives a vicious letter attacking Sir Percival, Walter thinks Anne, who has recently returned to the village, might be responsible. He confronts her, only to uncover a chilling truth about Laura's betrothed – that it was he who put Anne in the asylum.
Pictured: Marian (Jessie Buckley), Walter (Ben Hardy), Laura (Olivia Vinall)
Publicity contact: HW
Date
Sunday, 22 April 2018
Updates
Confirmed for BBC One at 9pm-10pm on 22 April