RAF AT 100 With Ewan And Colin McGregor
Ep. 1/1 -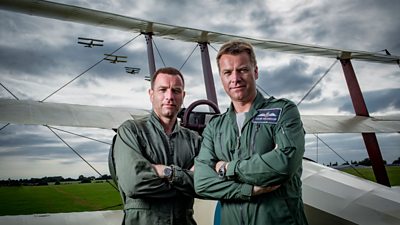 To celebrate the centenary of the Royal Air Force, actor Ewan McGregor and former RAF pilot Colin, his brother, take to the skies in some of the world's most iconic planes.
The brothers experience aerial combat at every stage of the RAF's story, from the dawn of the dogfight in World War One, the triumph of the 'The Few' and the bravery of the 'Bomber Boys' in World War Two, through to the Cold War and right up to the supersonic jets of today.
On the way they will meet some extraordinary men and women, explore the great moments such as The Battle of Britain and The Berlin Airlift, and will uncover little known stories of bravery and brilliance. It is a story of amazing machines and epic battles but above all it is the story of the men and women whose courage and ingenuity have been at the heart of the RAF for 100 years.
Geoffrey Wellum, who fought in the Battle of Britain as an 18 year old, speaks with passion about what is meant to take on the German Airforce. Mary Ellis and Joy Lofthouse were two of the pioneering flyers of the Air Transport Auxiliary who delivered thousands of planes to frontline units in World War Two. Looking back on a breakthrough for equality born of necessity, these two feisty elderly ladies share their memories of their glamorous but dangerous role.
Cold War aircrew like Jonny Tye and Martin Withers had the grim task of dropping the atom bomb and accepted their role knowing that if they ever had to carry out their orders it would be a one-way mission. David Morgan, who is the last RAF pilot to take part in a dogfight, talks with chilling clarity about the day he shot down two enemy aircraft over The Falkland Islands but also with humanity about how he has had to live with the personal and emotional consequences ever since.
Finally today's ground crew and pilots take Ewan and Colin on a supersonic flight in the Typhoon fighter, as they make their own all-too-real preparation for deployment to the skies over Syria and Iraq.
Publicity contact: EK
Date
Sunday, 25 March 2018
Updates
Confirmed for BBC One on 25 March at 8.30pm to 10pm