Troy: Fall Of A City
Ep. 1/8 -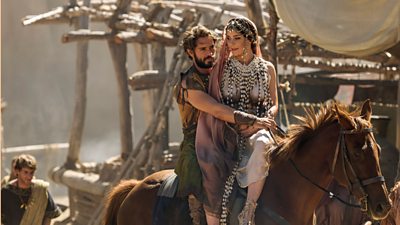 David Farr's (The Night Manager) visceral eight-part retelling of the fall of Troy comes to BBC One.
Episode One - Black Blood.
Told from the perspective of the Trojan family at the heart of the siege, Troy: Fall Of A City is an epic story of love, intrigue, betrayal and belonging. Combining thrilling adventure with heart-breaking intimacy, it explores primal emotions, the psychological repercussions of human actions and life-changing decisions amid the devastation and destruction of war.

Following a fateful encounter with the gods, the life of young herdsman Paris (Louis Hunter) changes forever. At the Troy city games he discovers something extraordinary about himself. Then, on a trip to Sparta as a guest of Menelaus (Jonas Armstrong) and Helen (Bella Dayne), he falls in love, with unpredictable and far-reaching consequences - provoking a conflict that threatens to bring an empire to its knees.

Troy: Fall Of A City also stars David Threlfall as Priam, Frances O'Connor as Hecuba, David Gyasi as Achilles, Joseph Mawle as Odysseus, Johnny Harris as Agamemnon, Tom Weston-Jones as Hector, Chloe Pirrie as Andromache, Aimee Ffion Edwards as Cassandra, Alex Lanipekun as Pandarus, Alfred Enoch as Aeneas, and David Avery as Xanthius.
Publicity contact: GK/KM
Date
Saturday, 17 February 2018
Updates
Confirmed for BBC One on 17 February at 9.10pm to 10.10pm