Miriam's Big American Adventure
Ep. 1/3 -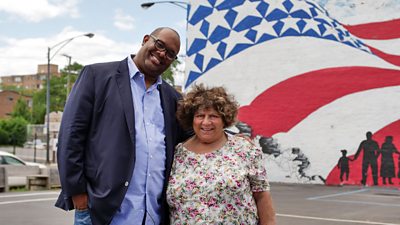 In this brand new documentary series the inimitable Miriam Margolyes embarks on an epic road trip through the heartlands of Middle America, with her unique mix of charm, cheek and curiosity.
Miriam is heading almost a thousand miles from Chicago to New Orleans - and along the way meeting the people whose voices and votes are reshaping the nation. From summer camps to county jails, all-girl motorbike gangs to a mass citizenship ceremony, the articulate, funny and refreshingly honest Miriam embeds herself in communities whose visions of their own country challenge everything she thought she knew about America.
In episode one, Miriam is in search of the American dream - whether it still exists, if it's available to all - and asks, why would you want it anyway?
Her journey starts in the divided city of Chicago. Staying with 'super-hosts' Larry and Jai, she's introduced to ex-Playboy bunny Candace Jordan, now a leading socialite in the city. Candace persuades the reluctant Miriam to have a beauty salon makeover and wardrobe revamp before heading to a glittering social event. But Miriam wants to see the other side of this city of divided fortunes, and travels to Chicago's troubled south side, where some say the American dream has become an American nightmare.
At 'O' Block, Chicago's most dangerous project, she meets ex-gang member and former drug dealer SP, who can't leave his block for fear of rival gang shootings, and hangs out with rapping brothers J-Mac and Tray Tray in Merrill Park - dubbed 'Murder Park' by the regulars due to a spate of gang-related killings - before they have to leave the park amid fears of a visit from a rival gang.
With Trump's anti-immigration policies unsettling the country Miriam wants to try and understand why people from other countries still want to become Americans. She heads to Indianapolis for a mass citizenship ceremony and meets the extraordinary José, who left his village in the jungle of the Congo and is now one of America's proudest and newest citizens - just in time for the 4th July celebrations, where Miriam joins him and his family.
Pictured: Miriam and Pastor Corey Brooks of the New Beginnings Church in Chicago's South Side
Publicity contact: KD
Date
Wednesday, 3 January 2018
Updates
Confirmed for BBC One on 3 January at 9pm to 10pm