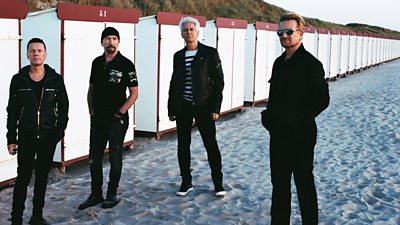 A world exclusive hour-long music entertainment show presented by Cat Deeley and broadcast on BBC One.
Recorded at the legendary Abbey Road Studios and produced by BBC Studios, two-time Golden Globe and 22-time Grammy Award-winning U2 perform some of their biggest hits, alongside brand new tracks from their forthcoming album Songs Of Experience.
The band talks to host Cat Deeley about rehearsing in a garden shed, who has the worst fashion sense off stage and being a family. They pay tribute to their friend Michael Hutchence 20 years on from his death, and tell the real story behind the free release of their album Songs Of Innocence.
Cat says: "Abbey Road Studios has played home to the great and the good, from classical masterpieces to modern-day classics. Everyone from Pink Floyd and the Beatles to Amy Winehouse and The Drifters have at some stage created some musical magic within the hallowed walls. Now it's U2's turn to make history.
"This intimate gig for the BBC is one of a kind. The stadium rock gods strip everything back for a one-off very special performance of some of their new tracks and old favourites. Then it's question time, as we go back to when Larry pinned an advert to his school noticeboard, Edge's mum being a roadie, the 'iTunes debacle' and the burning question - what name is on Bono's coffee cup?
"Four disarmingly charming gents, each funny and eloquent in their own unique ways. A 40-year friendship, so unusual and so deliciously apparent, the audience will find it infectious."
In exclusive behind-the-scenes footage, the band allowed TV cameras special access backstage and gave Cat an AAA backstage tour as they prepared to perform at the Morumbi stadium in Sao Paulo, Brazil last month.
U2 At The BBC is the fifth in the At The BBC series, and will follow Harry Styles At The BBC, presented by Nick Grimshaw, which aired on 2 November 2017, and Sam Smith At The BBC, presented by Fearne Cotton, which aired on 9 November 2017.
Publicity contact: KW2
Date
Tuesday, 19 December 2017