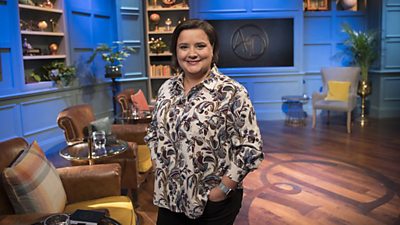 There's been a murder. And we need viewers to solve it.
Susan Calman hosts, as three amateur sleuths head to the fictional town of Mortcliff to solve a deadly crime from the comfort of the Armchairs in the studio.
From there they'll watch the drama play out, as Mortcliff's crack team of detectives - DI Knight, DC Slater and Scenes of Crime Officer Simmons - make inquiries with the local residents. But in a show where everyone has a motive it might prove harder to catch the culprit than you think.
Across each episode the Armchair Detectives will be introduced to suspects and uncover vital clues. They'll share their thoughts and theories as the story unfolds, before making their final accusation in a bid to win the golden magnifying glass trophy. 
This week the Armchair Detectives have the task of unraveling who had the biggest motive to kill a notorious criminal gang member - a mysterious B&B guest, a local dairy farmer, a professor or a local pigeon fancier?
It's time to answer the only question that matters: whodunnit.
Publicity contact: KF