How To Stay Young
Ep. 2/3 -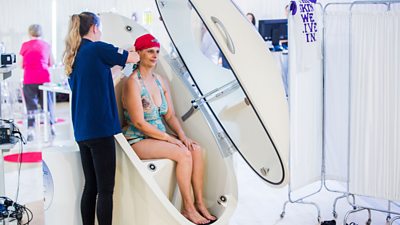 Did you know we have two ages - our actual age and a body age - and scientists have discovered that our lifestyles affect how we age. Thanks to modern lifestyles many of us are ageing too fast and have a body age much higher than it should be.
Dr Chris van Tulleken and Angela Rippon join some of the country's leading health experts to turn around the lives of people whose bodies are much older than their actual age. Using the latest scientific research on ageing, the expert team will try to help volunteers by giving them a complete lifestyle overhaul that will bring their body age closer to their birth age in just 12 weeks.
Working alongside the Institute For Ageing at Newcastle University the team has built the ambitious ageing lab, where they will be testing some the country's worst offenders to get the most complete picture of how they are ageing. The results from these tests will give us their real body age, and allow us to give them a personal plan going forward.
In episode one, we've invited a group of ordinary Brits to our anti-ageing lab to take part in one of Britain's biggest ever ageing experiments to find out their true body age - and the results are shocking. Many of us are ageing much faster than we should be.
One volunteer Kamini (pictured) discovers how being so lazy has made her body weak, putting decades on her age. Fifty year-old Alison finds out why modern life has made her so forgetful, and 51 year-old stress eater Tim has one of the worst results our scientists have ever seen, putting his life at serious risk.
They'll have just three months to get their body age down and closer to their birth age. But will they have succeeded when they re-face the tests in the ageing lab?
Pictured: Volunteer Kamini Sohdi being preparing to find out her fat percentage
Publicity contact: EM
Date
Wednesday, 20 September 2017