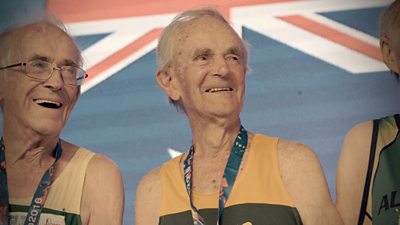 The Pacemakers follows the fun, surprising story of a group of men, all over the age of 90, as they pursue their dream of becoming world champion athletes.
For this BBC one-off, director Selah Hennessy spent a year filming with an international sub-culture of athletes as they prepare for the Olympics of OAP sport: the World Masters Championship. These are a highly competitive group of athletes, all hell bent on being champions.
They're also very determined old men battling major obstacles, from early onset dementia to terminal lung disease, in order to fulfill their ambitions. 
Charles Eugster, 97, is considered Britain's fittest OAP and in the space of just two short years, he's managed to ratchet up multiple world championship titles and two world records.
Charles is determined to break the world record for the long jump, whilst 92 year-old Peruvian Hugo Delgado competes to keep his title as one of the oldest, fastest sprinters the world.
These athletes are determined to prove themselves on the world stage, showing that we're never too old to dream big.
Pacemakers is a Bungalow Town production for the BBC. The Commissioning Editor is Danny Horan, the Director is Selah Hennessey, the Executive Producer is Riete Oord.
Pictured: Jim Sinclair
Publicity contact: CL
Date
Thursday, 24 August 2017