In Search Of Arcadia
Ep. 1/1 -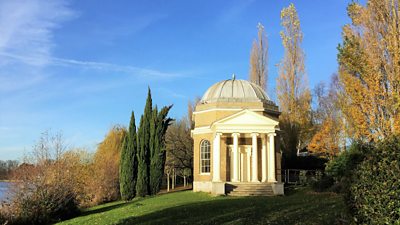 Art historian Dr. Janina Ramirez and angler John Bailey tell the extraordinary story of how a revolutionary movement, partly inspired by a fishing manual, transformed the cultural landscape of 18th century Britain.
Together they explore a 12-mile stretch of the River Thames, uncovering the stories of the Arcadian group of writers, poets, artists, and landscape designers who lived here in the 17th and 18th centuries and who were the architects of a cultural revolution in Britain.
John unpacks the role the River Thames played in their story, exploring the natural riches of its shores and how it was used as a transport route for not just people but for ideas. Naturally he does this from a boat on the water, and has plenty of time for fishing and contemplation along the way.
Meanwhile, Nina explores the ideas behind the Arcadian philosophy. There are eight clues to help her along her way hidden in the landscape of the Thames as it unfolds before her: Nicholas Poussin's painting Et In Arcadia Ego; Izaak Walton's Compleat Angler; the French formal gardens at Hampton Court; Pope's Grotto and his Camera Obscura; the view of Marble Hill House; Thomson's poem inscribed in King Henry's Mound; Chiswick House Gardens and, finally, the view from Richmond Hill.
Pictured: Sunset at The View from Richmond Hill - the only view in Britain protected by an Act of Parliament.
Publicity contact: MH2
Date
Wednesday, 9 August 2017
Updates
Confirmed for BBC Four on 9 August at 9pm to 10pm