Murdered For Being Different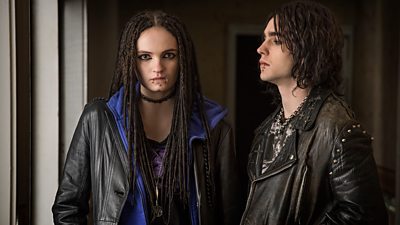 The Bafta and RTS award-winning team behind BBC Three's Murdered By My Boyfriend, Don't Take My Baby and Murdered By My Father return with a new film about a brutal hate crime that shocked the country in 2007.
In a small town in Lancashire, 20 year-old Sophie Lancaster (Abigail Lawrie) was kicked to death in a park by a gang of kids she didn't know. Her boyfriend Robert Maltby (Nico Mirallegro) was severely beaten into a coma. The two of them were randomly attacked because they were dressed as Goths.
Made in close collaboration with Rob, his family, Sophie's family and the police investigating team, this factual drama is the true story of a young relationship and of the violence and chaos that destroyed their lives, for simply being different.
In the aftermath of the attack, Murdered For Being Different also follows the story of one teenage witness, Michael Gorman, who struggles with the need to speak out against the attackers and stand up for what is right.
Made on the 10th anniversary of Sophie's death, this film is both a love story and a forensic examination of the causes and consequences of a brutal attack. It will be the centrepiece programme in a BBC Three season exploring identity.
Murdered For Being Different stars Abigail Lawrie (Casual Vacancy), Nico Mirallegro (Common, Mad Fat Diary, Hollyoaks), Chanel Cresswell (This is England) , Sally Lindsay (Coronation St, Mount Pleasant), Reiss Jarvis, and Sophie McShera (Downtown Abbey, Cinderella).
Publicity contact: EM