Amsterdam: An Art Lovers' Guide
Ep. 1/3 -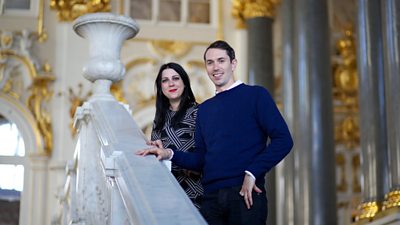 With sumptuous palaces, exquisite artworks and stunning architecture, every great city offers a dizzying multitude of cultural highlights. So what should an art lover see on a flying visit?
Art historians Dr Janina Ramirez and Alastair Sooke take us on three entertaining and revealing cultural city breaks, offering surprising new insights into famous locations and uncovering hidden gems and untold stories, as they discover how religion, revolution and trailblazing individuals can shape the art - and soul - of a city.
In the opening episode, Janina Ramirez and Alastair Sooke want to discover Amsterdam through its art and design. It's a city that pioneered so much of modern life, from multinational trade to the way we design our homes. To find out how, Alastair and Janina take us on a fast-paced tour of the city's cultural hotspots: not just the famous attractions, but also the city's lesser-known artistic delights.
Picking their way through the crowds queuing to see Rembrandt at the Rijksmuseum, they also introduce us to the paintings of Jan Steen, a Dutch legend whose paintings capture the city's freewheeling lifestyle. They take us on an entertaining tour of the canals that helped build Amsterdam and explore the city's reputation for tolerance, in the oldest surviving Jewish library in the world.
Along the way, Alastair and Janina discover how Amsterdam's art and culture reflects the liberal attitudes, appetite for global trade and love of home comforts that helped shape the character of this trailblazing city.
Pictured: Dr Janina Ramirez and Alastair Sooke on the Jordan Staircase of the Winter Palace, home to the Hermitage Museum
Publicity contact: KM
Updates
Confirmed for BBC Four on 1 May at 9pm to 10pm