Mind Over Marathon
Ep. 2/2 -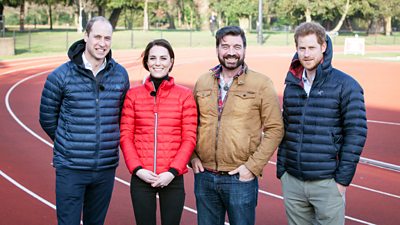 A group of 10 unlikely runners, living with different mental health issues, are half-way through their training for the ultimate test of mind over matter. But who will make it to the starting line of one of the world's most famous endurance races - this year's London Marathon?
The remaining runners are juggling physical injuries along with their mental health challenges, and trying to fit training into their lives. They attempt longer and longer distances and even travel to the Brecon Beacons for a mountain run. In this episode we catch up with Rhian, Shereece, Jake and Poppy, who struggles with anxiety and the symptoms of PTSD.
The runners are joined at a special training day by the Duke and Duchess of Cambridge and HRH Prince Harry. The royal trio have launched a campaign to remove the stigma around mental health issues and are keen to meet the runners and learn more about their personal stories. The runners are taking part in the London Marathon for Heads Together, the campaign led by the Duke and Duchess of Cambridge and Prince Harry, which is the official Charity of the Year for this year's event.
It's an incredible boost to the runners - but will it be enough to get them to the finishing line of this year's London Marathon?
Publicity contact: EM
Date
Thursday, 27 April 2017