The World According To Kids
Ep. 1/6 -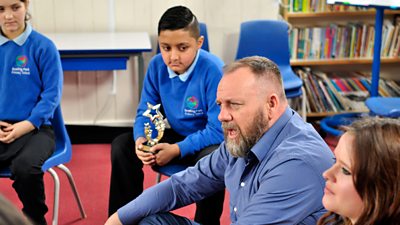 In this ambitious six-part series, 70 children aged between 6 and 11 across the UK tell us what they really think of the world - with insightful, funny and moving results.
Equipped with cameras at home they film their own lives through major events, while their after-school clubs are rigged with cameras and a number of tasks devised by philosophers shake through the big issues of the day, offering an intimate insight into how children think.
For this series, Gordon Poad (pictured) and a team of philosophers have developed a collection of real-life dilemmas and challenges to find out what children really think. There's a suitcase of cash in the street: should they walk away, keep the money or call the police? Who deserves to get on the lifeboat of a sinking ship if there aren't enough places for everyone? What new law would they bring in if they were Mayor for the day?
Each challenge is brought to life not just by the children's ideas, but more revealingly by how they convince their friends to get on board with their choices.
Episode One: Love And Hate
In this first programme, children from a debating club in Bradford, a pony club in Berkshire and a drama class in Gloucester explore their feelings of love and hate. Eight year-old Abigail is getting used to the idea of her mum and dad's impending wedding; Daniel is bursting to see his father, who's been posted away with the army for the last six months; whilst Edmund just loves to hate his little sister.
Publicity contact: Programmes Desk
Date
Thursday, 13 April 2017
Updates
Confirmed for 13 April at 8pm to 9pm