Me And My Dog: The Ultimate Contest
Ep. 1/4 -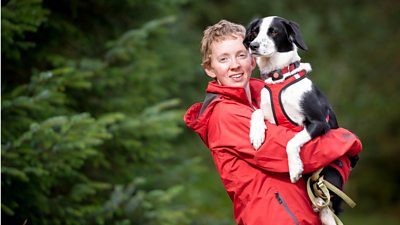 In a brand new series presented by Chris Packham, Me And My Dog sees eight owners and their dogs from across the UK compete together in a unique contest set in the testing terrain of the Lake District.
This physical and mental competition will test all of the colourful characters relationships to the limit. Over four weeks, canine scientists and dog trainers will help them unlock the full potential of their partnership as they compete in a series of challenges. The best duos will win a place in the grand final, but only one pair can be crowned ultimate champions. Throughout the contest, dog devotee Chris will unveil the science behind the incredible bond between human and dog.
In episode one the challenges are all designed to test their human/canine communication skills. The eight pairs are split into two groups - the Reds and the Yellows - and it's the Reds who have the first chance to score points. Owners must encourage dogs through a series of gates using three key modes of communication - verbal, body language and eye contact. For the Yellows it's a Ghyll Scramble through fast flowing water where dogs need to collect tennis balls along the way but some don't want to get their feet wet.
The ultimate test of communication is a tethered biking challenge. The final scores are revealed - but who has triumphed in the first stage of the contest?
Pictured: Jennie (aka Badger) and Bodger 
Publicity contact: EM
Date
Wednesday, 5 April 2017
Updates
Confirmed for BBC Two on 5 April at 8pm to 9pm