The Drug Trial: Emergency At The Hospital
Ep. 1/1 -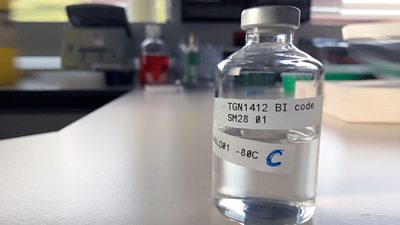 On Monday 13 March 2006, eight healthy young men took part in a clinical trial of an experimental drug known as TGN1412. The drug was intended to treat leukaemia and had already been successfully tested on monkeys but never on humans.
It should have been a routine clinical trial but it soon spiraled into one of the most infamous medical emergencies in recent British history.
Within an hour of receiving the drug, six of the volunteers were fighting for their lives: "It was all manic, everything was happening all at once, they were vomiting, they were screaming in pain, people fainting."
The men's temperatures soared, their organs failed, and some of their bodies swelled so severely that they became known in newspapers around the world as the 'Elephant Men'.
A decade on, this BBC Two drama documentary tells the story of what really happened during the trial, during the critical hours as medical staff fought to save the patients' lives, and through the aftermath as the authorities sought to understand what had happened.
Featuring candid personal testimony from doctors who struggled to bring the clinical catastrophe under control: "This was a mystery, we had no way of predicting how severe it was going to get. There was no rule book for how to deal with this."
The investigators tasked with discovering what went wrong: "This was treated as a crime scene. Something could have been tampered with, sabotaged, poisoned and that these folk might have been the victims of such foul play."
And the patients themselves: "I thought I was doing something good for science, but in the end it was the worst thing I could ever have done."
This dramatic, thought-provoking science documentary tells the story in gripping detail.
Publicity contact: CT
Date
Tuesday, 21 February 2017
Updates
Confirmed for BBC Two on 21 February at 9pm to 10pm