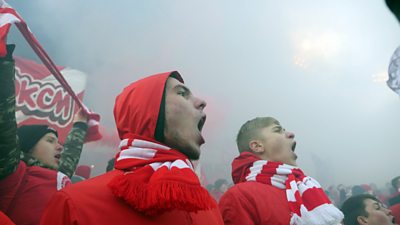 At the 2016 European Championships, violent clashes between Russian and English supporters in Marseille put the spotlight on Russian hooliganism.
Russian hooligans injured over 100 English supporters, beating two into a coma. It was some of the worst football violence seen at an international tournament and raised serious concerns ahead of millions of fans travelling to Russia for the 2018 World Cup.
To find out what UK football supporters could face, filmmaker Alex Stockley von Statzer travels to Russia to experience the country's football fan culture first-hand for the BBC's international current affairs strand This World. Featuring footage filmed in Marseille in 2016, rare interviews with members of some of the most feared firms like the Spartak Gladiators and Orel Butchers, and new footage of an organised fight for wannabe recruits.
Russia's Hooligan Army uncovers a world where brutal violence has become a mark of honour and a symbol of newly resurgent Russian masculinity.
Most Russian hooligans have moved away from the English movement that inspired them in the 1970s and 1980s. Today they are organised in firms that are teetotal, physically fit and trained in mixed martial arts. Hooligan firms have become popular in the country and are an inspiration to many young men.
With the World Cup on the horizon, the Russian police are trying to get tough. Police have enacted new laws promising bans and jail for any fans that cause trouble and are heavily policing stadiums. Alex travels to Oryol to speak to the Orel Butchers who violently attacked English fans in Marseille. In a rare interview we hear one hooligan taking relish in describing a merciless attack by a number of Russians who kicked an England fan in the head - an attack that was also caught on camera.
Alex also travels to Rostov, which will host five games at the World Cup, to film an organised fight in the woods. Here he meets with a local firm getting ready to audition for new members. Young men fight in a no holds barred brawl against young fighters from another local firm. It's a vicious clash similar to what was witnessed in Marseille and is one of the hundreds of fights that firms arrange all across Russia.
Pictured: Spartak Moscow fans inside the stadium during the derby against CSKA Moscow
Publicity contact: FS
Date
Thursday, 16 February 2017
Updates
Confirmed for BBC Two on 16 February at 9pm to 10pm