Flying Scotsman From The Footplate
Ep. 1/1 -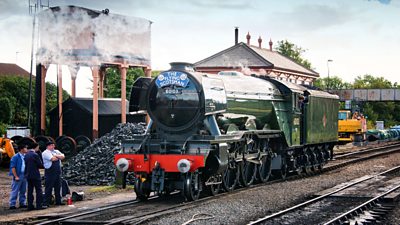 BBC Four viewers can sit back and enjoy a 60-minute trip from the driving seat of the Flying Scotsman, with a signal-by-signal guide to life on the footplate of the nation's favourite steam engine.
In a special one-off observational documentary, the crew take locomotive 60103 down the Severn Valley Railway, cutting through stunning landscapes on a journey from Bridgnorth to Kidderminster, in the midlands of England.  
Our 'cab cameras' capture veteran driver Roger Norfolk and fireman Ryan Green in action, as they talk us through the mechanics and challenges of operating this national treasure.  
Expect to discover more about the living age of steam - a world of regulators, valves, pistons, smokeboxes, signalling systems and more.  Then things get hot on the footplate and not everything goes exactly to plan…
Publicity contact: charlotte.turner@bbc.co.uk
Date
Thursday, 29 December 2016
Updates
Confirmed for BBC Four on 29 December at 9pm to 10pm