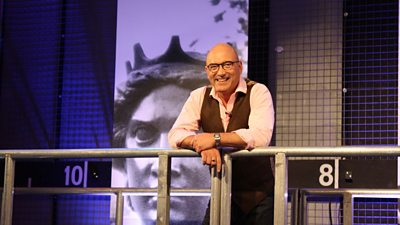 Hosted by Gregg Wallace, Time Commanders is the show that lets ordinary members of the public go toe to toe with the world's greatest generals. Using cutting-edge simulations, they refight some of the most significant battles from history, offering an innovative mix of genuine history and game show competition.
In episode one, Time Commanders heads back to 202 BCE, where Rome has had enough of the upstart Carthaginian, Hannibal. Desperate to end his 16-year campaign of war against the Republic, one of Rome's greatest generals, Scipio, is charged with freeing Italy from this menace. Scipio elects to fight Hannibal in his homeland, forcing him to return to Africa and protect the city of Carthage.
This time, a team of wrestlers will attempt to rewrite history by defeating Scipio and preventing him from taking the city. Playing Hannibal and his Carthaginians, they'll be defending their home town. Up against them, will be a team of historical board game enthusiasts taking on the role of the Romans, in a fight that will set the course of European history for centuries to come.
Publicity contact: RH2
Date
Monday, 12 December 2016
Updates
Confirmed for BBC Four on 12 December at 9pm to 10pm