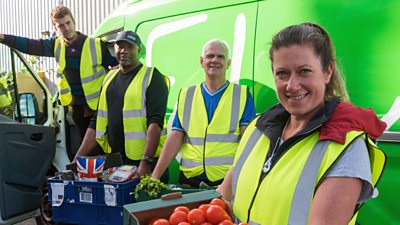 The Big Food Rescue follows the anti-food waste movement as it aims to make a dent in the 10 million tonnes of food thrown away in the UK every year.
David Cairns and Robin Aitken set up a charity to stop edible food going to landfill and began delivering it to other charities to help people in need.
In this five-part series, David and Robin travel to London to help set up a new charity. They will be applying the model they use in Oxford but on a much larger scale – can it work in a city 55 times the size?
The series also visits other inventive schemes around the country which form the national movement to reduce food waste.
Pictured: Some of The Felix Project staff and volunteers: Peter, Aidan, Winston, Anne
Publicity contact: KH2