Planet Earth II: Jungles
Ep. 3/6 -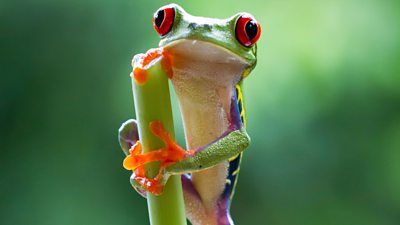 Jungles are the richest habitats on earth - mysterious worlds of high drama where extraordinary animal characters struggle to survive in the most competitive place on earth.
Flooded forests are home to caiman-hunting jaguars and strange dolphins that swim amongst the tree tops, whilst in the dense underworld ninja frogs fight off wasps and flying dragons soar between trees.  Acrobatic indri leap through the forests of Madagascar while the jungle night conceals strange fungi and glow-in-the-dark creatures never filmed before.
Captured in stunning ultra-high definition detail, Planet Earth II is an immersive exploration of the islands, mountains, jungles, deserts, grasslands and cities of the world.
Journey to the four corners of the globe to discover the extreme forces that shape life in each of these iconic landscapes and the remarkable ways animals manage to overcome the challenges of surviving in the wildest places on Earth. From eye-to-eye encounters with incredible creatures to epic journeys through breathtaking wildernesses, experience the wonder of the natural world as never before.
Pictured: Red-eyed tree frog takes a rest in the Jungles of Costa Rica
Publicity contact: CT
Date
Sunday, 20 November 2016