Saving Africa's Elephants: Hugh And The Ivory War
Ep. 1/2 -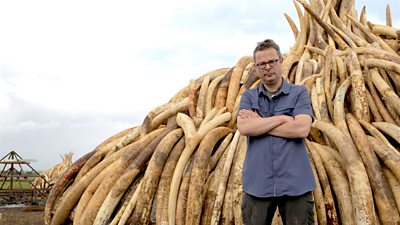 Every day more than 80 elephants are killed in Africa for their ivory. At this rate, experts have warned that the African elephant could be extinct in the wild within 25 years. In the first of this investigative two-part series, broadcaster and environmental campaigner Hugh Fearnley-Whittingstall is on a mission to find out how this brutal, illegal trade can be stopped.
Starting in the poaching hot spot of Northern Mozambique, Hugh joins the conservationists, rangers and villagers who patrol from the air and on the ground, to find out why Niassa National Reserve has lost almost two thirds of its elephants in only three years.
Discovering the grim reality of the situation, Hugh follows the ivory trail through the port of Mombasa in Kenya, where a whistleblower reveals the corruption that lets smuggled ivory through the port.
From there, Hugh heads to one of the busiest ivory markets in the world: Hong Kong, where carved ivory is sold openly in licensed shops. Antique ivory, defined as pre-1947, is considered legal around the world, but fresh ivory is not. However it is impossible for an untrained eye to tell the difference and the rules of the trade are riddled with confusion. Hugh goes undercover with secret cameras to prove that traders are laundering recently-poached ivory smuggled in from Africa, and most surprising of all, he discovers that the UK and Europe are complicit in fuelling these markets.
Back in the UK, Hugh uses radio carbon dating to reveal that carved ivory pieces on sale here are not always the antiques they claim to be.
These shocking results lead him to call into question the UK Government's policy on ivory. Are they prepared to take action? Hugh is determined to get answers at the highest level.
Publicity contact: EK
Date
Monday, 24 October 2016
Updates
Confirmed for BBC One on 24 October at 9pm to 10pm