Obesity - The Post Mortem
Ep. 1/1 -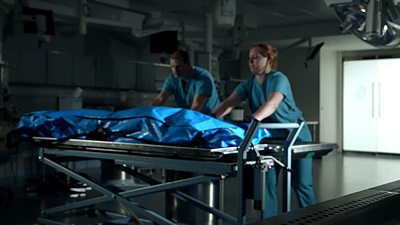 BBC Three is going on a unique journey inside the human body to investigate the devastating impact of obesity. In a UK first, leading pathologist Dr Mike Osborn and Anatomical Pathology Technologist Carla Valentine perform a televised autopsy on an American woman - who weighed nearly 17 stone - to discover exactly what excess fat can do to our organs.
With almost three quarters of British adults likely to be overweight or obese in less than 20 years, obesity is a significant problem showing no signs of slowing. There is plenty of focus in today's world on how people look, but as the programme demonstrates it's also about what's happening to our insides - it's the fat we can't see that's killing us.
It's a medical area about which there is relatively still a lot to learn. Accompanying the film will be extra content delving further into the world of pathology and going behind the scenes on the UK's first post mortem, specifically aiming to uncover the internal effects of obesity on the body.
Publicity contact: EJ
Available From
Tuesday, September 13, 2016, 12:00 AM
Updates
Confirmed for BBC Three on 13 September from 10am