One Night In 2012 - An Imagine Special
Ep. 1/1 -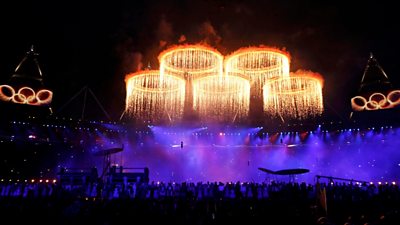 London. The Summer of 2012. As rehearsals take place in a rainy Dagenham car park, Director Danny Boyle reveals a glimpse of his Opening Ceremony to the press. Some denounce it as the "Tellytubby Olympics" - others fear that it can never compete with the spectacle of Beijing. Everything pointed to an embarrassing failure. So how did one night in 2012 become 'The Greatest Show on Earth'?
This is the story of a unique night when the Brits began to believe in themselves again. A night which showed the country what it could achieve when extraordinary people pulled together. A night which went beyond everyone's expectations.
For the first time since that night, Danny Boyle and the creative team behind the ceremony reunite in the company of Alan Yentob to explain the thinking that went into creating one of the country's finer moments.
Fuelled by the volunteers, Boyle and his team assembled the building blocks of what should be celebrated. Out went the Empire, in came literature, music, humour, the NHS, the worldwide web: things we gave to the world rather than took from it.
Between them they conjure the absurd scale of the ambition, (how to tell stories on such a vast stage), the obstacles they overcame, the doubts (Boyle never wavered), the chaos and the process that led to that the mass movement of thousands of people. Recounting tales of creating Pandemonium, the engineering genius behind the 40ft towers and the mayhem of perhaps "the biggest scene-change there's ever been", this is a funny emotional reunion.
It was a night full of famous faces, from Shakespeare to Her Majesty the Queen, from Bond to J.K. Rowling. But at the core of Boyle's vision were the thousands of volunteers who came together and gave Boyle's vision form. This Imagine Special will give a voice to those volunteers, their stories forming the spine of the film. None of these people were professionals, yet they formed a bond that made the world sit up and take notice. This is a unique glimpse into the friendships that were forged, the talents that were discovered and the lives that were changed. It's a tale of the transformative power of art.
With exclusive access to behind the scenes footage from audition through to the night itself - from HD to iPhone - this is the story of 90 minutes that rekindled a country's faith in itself and dazzled the world when it mattered - on the night.
It was a warm-up act like no other.
BBC Studios/Rogan Productions
Publicity contact: KM
Updates
Confirmed for BBC One on 17 July at 10.30pm to 12.10am