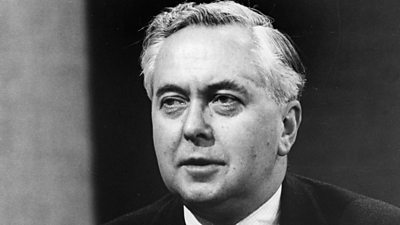 To mark the 50th anniversary, BBC Parliament gives viewers a chance to experience the 1966 General Election through this archive broadcast of the BBC's original live election results coverage from Thursday 31 March 1966.
Cliff Michelmore hosts the BBC's 1966 General Election programme, with analysis of the results by election experts David Butler and Robert McKenzie, political commentary from the BBC's parliamentary correspondent Ian Trethowan, and interviews by Robin Day.
The election battle is between Prime Minister Harold Wilson's Labour Party, which was attempting to improve on the parliamentary majority of just one seat it held at the time the election was called, and the Conservatives under the eight-month-old leadership of Edward Heath, with hopes of overturning Labour's narrow majority.
Live coverage of declarations and reaction to the results comes from across the country, including reports from Frank Bough in Wolverhampton, Magnus Magnusson in Glasgow, Raymond Baxter in Billericay, Michael Parkinson in Birmingham and Alan Wicker with the crowds watching the BBC's coverage on a big screen in Trafalgar Square.
In addition, Michael Aspel presents regular news summaries, Robert Robinson provides a review of the newspapers, and among the studio guests giving their response to the election campaign and results are the editor of the Spectator magazine Nigel Lawson and the US political commentator Theodore H White.
Pictured: Harold Wilson
Publicity contact: BBC Parliament
Date
Monday, 28 March 2016