Britain's Muslim Soldiers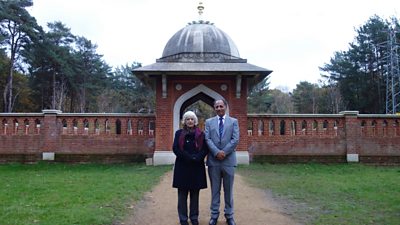 This timely one-off documentary follows the story of the restoration of a forgotten and dilapidated burial ground for 27 Muslim soldiers who gave their lives fighting for Britain in two World Wars.
Shot over three years, the film shows the struggle of two understated pioneers: Zafar Iqbal, a Muslim from Woking Borough Council, and Elizabeth Cuttle, a local Surrey history enthusiast (pictured), as they battle to get this small plot of land restored and recognized as a symbol of an important and largely unknown part of British history.
Using archive, interviews with historians and surviving descendants, the film also reveals the stories of some of the Muslim soldiers once buried here, and through their experiences, the history of the Muslim contribution to the British war effort in World War One unfolds. The film ends with the voices of modern Muslims who believe this shared narrative is one of the ways that prejudice and distrust of Islam in modern Britain might be overcome.
Publicity contact: CM8
Date
Sunday, 3 January 2016
Updates
Confirmed for BBC One on 3 January at 1.15pm to 1.55pm