Blast Off Live: A Stargazing Special
Ep. 1/1 -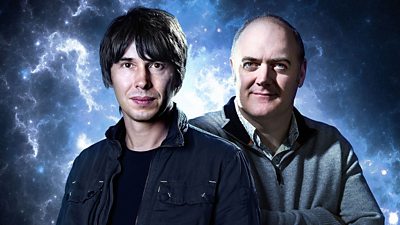 Following the success of the eclipse coverage on BBC One, Stargazing Live returns to the daytime schedule for a momentous one-off national celebration, as Tim Peake blasts off to the International Space Station.
Hosts Professor Brian Cox and Dara O Briain will present the programme from the Science Museum in London, where thousands of schoolchildren and VIPs will come to share in the excitement of launch day. They'll be joined by a team of experts as the countdown clock ticks down to blast off just after 11 o'clock.
Space fanatic Dallas Campbell will report live from a prime position at the launch site in Kazakhstan. He'll reveal just how Tim's rocket has been assembled and chat live to an astronaut who knows Tim intimately, after spending years training alongside him.
Back in London, Dara and Brian will be joined by Chris Hadfield, the former commander of the International Space Station, and the man made famous for his rendition of David Bowie's Space Oddity. He'll provide fascinating insights into life in space and the dangers and difficulties of getting there.
Newsround's Leah Boleto will discover just what Tim's body will go through on his trip to the ISS. She'll show how those of us who aren't lucky enough to go into space can experience exhilarating g-forces and weightlessness, just like Tim.
The programme will bring the key moments of the launch to life, from the extraordinary way the Soyuz capsule navigates thousands of miles to reach the ISS to the incredible emergency escape system which has saved astronauts' lives.
As the programme goes live, Tim will be perched on top of hundreds of tonnes of highly flammable rocket fuel, strapped in to his seat in the Soyuz capsule. And thanks to tiny cameras installed inside the rocket viewers will be able to see live pictures of Tim - not only waiting to blast off, but also as he zooms at hundreds of miles an hour through the sky to reach orbit.
Publicity contact: YL
Date
Tuesday, 15 December 2015
Updates
Confirmed for BBC One on 15 December at 10.30am to 11.15am