Sir Alex Ferguson: Secrets Of Success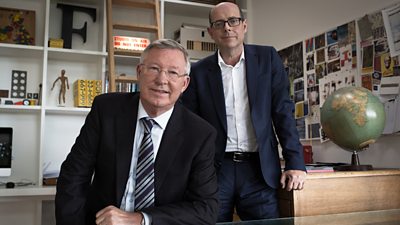 Sir Alex Ferguson is one of the most successful leaders this country has ever produced.
He was the mastermind of one of Britain's leading brands. Not a soft drink or a smart phone, but a football club: Manchester United.
During his 26 years as manager of Manchester United Football Club, Sir Alex transformed it into a multi-million pound global business, picking up every single domestic trophy there is in football along the way – many times.
In this one-off programme, the BBC's political editor for the past decade, Nick Robinson, will get up close and personal with Sir Alex and uncover the secrets of his success. Sir Alex will share his unique insights on leadership that speak to everyone, revealing how he stayed at the top of his profession for so long and crucially how best to motivate, discipline and inspire people.
Viewers will discover not only how he turned United into a team of champions but how he kept them at the top and what skills he deployed.
Sir Alex will also reflect on the nature of legacy and life after leaving the stage with Manchester United, and how, through his relationships with eminent figures outside football and his teaching, his approach to leadership has found resonance beyond the world of football. The programme will feature contributions from leading figures in business, politics, military and sport including Cristiano Ronaldo, Tony Blair, General Sir Michael Jackson, Lord Sugar, Ryan Giggs, Rio Ferdinand, Sir Michael Moritz, Jose Mourinho and Professor Anita Elberse.
Publicity contact: BW
Date
Sunday, 11 October 2015
Updates
Confirmed for BBC One on 11 October at 10.30pm to 11.30pm