The World's Worst Place To Be Disabled?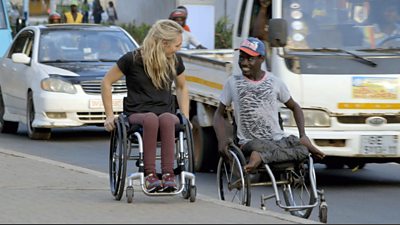 Disabled journalist Sophie Morgan travels from London to Ghana to uncover the horrifying reality of many disabled people who live there. Sophie meets children who have been exiled from their villages for being 'cursed', chained up in local prayer camps, and investigates the ritualistic killing of 'spirit children' believed to have been possessed by evil spirits.
Beginning in the country's thriving capital city Accra, Sophie sees first-hand how many disabled people end up living on the streets, and hears how much of the disabled community has been left out of this west African country's economic success. Shocked by what she finds in the city, Sophie heads to the countryside to find out the reality of life for disabled people there.
Travelling with her brother Tom, Sophie finds herself in one of Ghana's popular prayer camps where many disabled people are taken to be 'cured'. She meets patients who have been brought to the camp against their will by their families, and chained up so that they can't escape.  As Sophie leaves, she learns of an even worse reality for many disabled children, who are 'returned to the spirits' by some of Ghana's spiritual and traditional healers - and ritualistically murdered. A local disabled activist takes Sophie to where he says children are poisoned and killed, and she goes to meet a so-called Fetish Priest who admits that he will dispose of a disabled child for payment.
After so many shocking discoveries, Sophie makes her way back to Ghana's capital city to put her findings to a government spokesperson, and to ask if Ghana really is the world's worst place to be disabled.
Made by Markthree Media with Watershed. Directed by Stefania Buonajuti and Kate Monaghan and Executive Produced by Alison Gregory. Darren Kemp is BBC Commissioning Editor.
Publicity contact: CT
Available From
Tuesday, July 28, 2015, 9:00 PM
Updates
Confirmed for BBC Three on 28 July at 9pm to 10pm