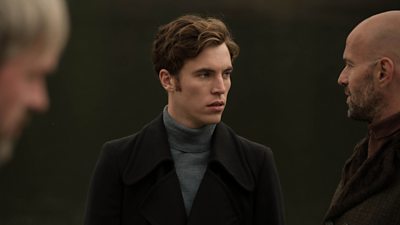 London, 1972. When a defecting KGB officer reveals the existence of a devastating Soviet plot by the name of Operation Glass, the charismatic head of MI5 must assemble a secret committee to help protect Britain.
As the Soviets awaken sleeper agents to carry out the plot, the new team are faced with an unidentified and invisible threat.
The first agent reactivated is a civil servant, bullied and blackmailed into working for the KGB. As MI5 scramble to identify his role in Operation Glass, Joe Lambe becomes obsessed with the reappearance of his nemesis, the Soviet agent codenamed Odin.
Stars: Tom Hughes (Joe Lambe); Brian Cox (Daddy); Paul Ritter (Bobby Waterhouse); Victoria Hamilton (Sarah Montag); Jonathan Aris (Alan Montag); Shaun Dooley (Jim Fenchurch); Chloe Pirrie (Wendy); Judy Parfitt (Hester Waterhouse); Zana Marjanovic (Yulia); Marcel Iures (Arkady); Jevgenij Sitochin (Odin); Gabrielle Scharnitzky (Kitty); Timothy Bentinck (Home Secretary); Scott Handy (David Hexton).
Publicity contact: CK
Date
Thursday, 30 April 2015
Updates
Confirmed for BBC Two on 30 April at 9pm to 10pm