This World: Britain's Jihadi Brides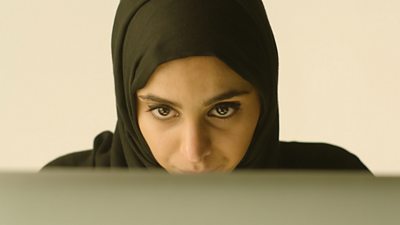 Across the UK, families have been have been left devastated by the disappearance of their teenage daughters who have run away to join the so-called Islamic State. Just a few weeks ago CCTV footage of three teenagers from the same school in Bethnal Green sent shock waves through the UK.
Many of the families have said they were totally unaware of the radicalisation of their daughters. Britain's Jihadi Brides reveals how Islamic extremism has become a sprawling and uncontrollable force via the internet. The so-called Islamic State is believed to be operating over 45,000 social media accounts and has its own film unit producing slick propaganda videos aimed at luring people to join.
It seems a good family and great education aren't protection against the techniques used by online radicalisers. The Halane twins from Manchester, with 28 GCSEs between them, left behind all hopes of becoming doctors to marry jihadi fighters, and became teenage widows in Syria within a few months.
There is growing evidence that recruiters are actively approaching and targeting young people online. Lea, a French teenager who was stopped by intelligence officers minutes before she was due to be collected by her radicaliser at her school gates, reveals how her radicalisation had taken just a few months.
The mother of Grace Dare talks for the first time since her daughter made headlines after tweeting that she wanted to become the first UK woman to kill a UK 'terrorist'. A studious Christian girl who converted to Islam when she was 18, Grace began calling herself Khadijah. She told her mother she was going away to study, but she has never seen her since.
Once in Syria many British girls, including the Halane twins and Lewisham mother Khadijah Dare, seem to have become part of a group of Western women who use extremist propaganda to bolster the recruitment of people to their cause.
Meanwhile their families are left struggling with the idea that their daughters have been 'brainwashed', with the constant anxiety of wondering what will happen to them in war-torn Syria - and if they will ever return.
Image: Aqsa Mahmood (ANJLI MOHINDRA) - reconstruction actress
Publicity contact: JC
Date
Wednesday, 8 April 2015