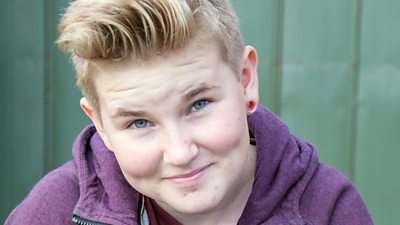 The Bafta award-winning and critically acclaimed documentary series My Life is back on CBBC. I Am Leo follows an extraordinary boy with an incredible story to tell.
Thirteen year-old Leo loves socialising with his friends, beat-boxing and doing all the things a 13 year-old boy would normally do. What makes Leo different is that he was born with a girl's body. He has become one of the first children in Britain to be prescribed hormone blockers to prevent him growing into a young woman.
Leo tells his very intimate story through a series of video diaries and interviews to explain exactly what it's like to be transgender and his journey to be accepted by other people as male.
Leo was born as Lily but has lived as a boy since the age of five and changed his name by deed poll at the age of 11. He talks about the support that he has had from his family but also explains that a lot of people struggled to accept his decision to live as a boy, particularly at primary school.
The CBBC cameras follow Leo to the Tavistock and Portland clinic, which specialises in treating transgender people. Here Leo receives hormone treatment and also counselling on what it means to be transgender.
Leo also meets 20 year-old Natalie, who was born male but lives as a young woman, and Stephen Whittle OBE, who was also born female but has lived most of his adult life as a man. Stephen helped set up Press For Change, a support group for transgender people.
By telling his story, Leo explains the importance of feeling accepted for who we are and also hopes to ensure that other young people don't face the same prejudices and hostilities as he has done since making his decision.
My Life: I Am Leo was made by Nine Lives Media and will be shown as part of anti-bullying week on CBBC.
Publicity contact: KW
Date
Monday, 17 November 2014
Updates
Confirmed for CBBC on 17 November at 6pm-6.30pm