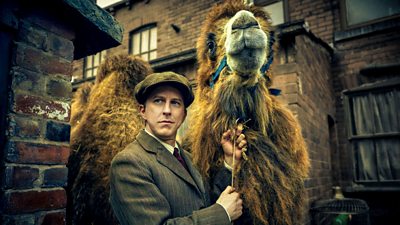 Frustrated by living with his wife and two daughters under his parents' roof and tormented by his war trauma, George decides to change his life and put a bit of beauty back into the world.
Haunted by memories of combat in the Great War, he now finds himself living with his wife and two daughters in his parents' cramped home above the family grocery store. While delivering goods by the docks one day, he spots an unwanted squirrel monkey and a camel about to be put down in the quarantine bay. George can't bear to let them suffer so takes them both home to his parents' backyard instead - much to the family's bewilderment.
His family sees this as further evidence that he's losing his mind, but George is busy making plans that will change their lives forever. On the way to an army reunion he comes across a rundown stately home, Oakfield, surrounded by acres of land, and he formulates the idea of buying it and building around it the first British zoo without bars.
Against the odds he persuades the bank to lend him the money to buy Oakfield. But once George has persuaded his sceptical family to move into their new ramshackle house, the whole family faces the tough task of convincing the genteel and hard-to-please villagers to accept them as neighbours. George thinks it best to keep the zoo plans secret, which becomes difficult when Mortimer the monkey escapes into the village.
Cast: Lee Ingleby (George Mottershead); Liz White (Lizzie Mottershead); Ralf Little (Billy Atkinson); Stephen Campbell Moore (Reverend Webb); Sophia Myles (Lady Katherine Longmore); Amelia Clarkson (Muriel 'Mew' Mottershead); Honor Kneafsey (June Mottershead); Peter Wight (Albert Mottershead); Anne Reid (Lucy Mottershead).
Publicity contact: IJ