The Duchess Of Malfi: BBC Arts At The Globe
Ep. 1/1 -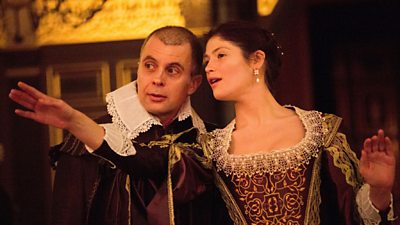 BBC Four presents the TV premiere of the critically acclaimed production of John Webster's macabre revenge tragedy The Duchess Of Malfi, following its sell-out run at the Sam Wanamaker Playhouse at Shakespeare's Globe theatre earlier this year.
Gemma Arterton takes the title role as the widowed Duchess of Malfi who longs to marry her lover Antonio, played by Alex Waldmann. But her brothers, Ferdinand (David Dawson) and the Cardinal (James Garnon), are determined to prevent the union. When their spy, Bosola (Sean Gilder), discovers the Duchess has already married Antonio and is pregnant with his child, they set out to exact their revenge – with horrifying and bloody consequences.
For the BBC Four audience, Andrew Marr introduces the play from the Playhouse itself, an exquisitely recreated Jacobean theatre giving a sense of what it was like to be in the audience when the play was first publicly staged in 1614. Everything is as it was 400 years ago - the audience cocooned in a wooden chamber made of pale oak, and the stage lit solely by hundreds of candles. BBC Arts takes audiences to the heart of this extraordinary performance as the curtain draws back and the play unfolds in a bloody and downright ghoulish chain of events.
Publicity contact: SH6
Updates
Confirmed for BBC Four on 25 May at 8.00pm to 10.30pm