The Wrong Mans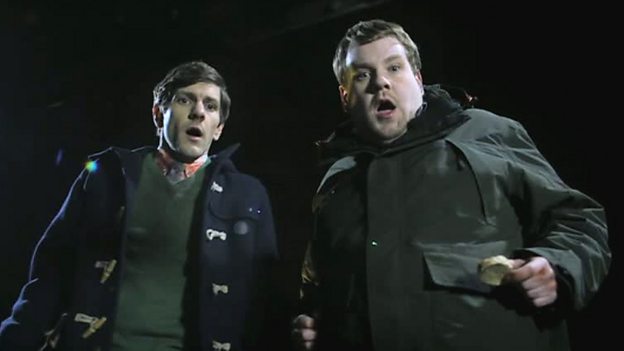 Confirmed for BBC Two on 24 September at 9.00pm to 9.30pm

Ep 1/6

Tuesday 24 September
Sam Pinkett and Phil Bourne, office workers for Berkshire County Council, have their menial existence turned upside-down by a chance phonecall and a case of mistaken identity.
After being sole witness to a car crash on a desolate country road, Sam (Mathew Baynton) answers an abandoned mobile telephone and hears a message that was clearly not meant for him: "If you are not here by 5 o'clock, we will kill your wife". Encouraged by the office mailroom delivery boy that they can be the heroes of the hour, they soon find themselves plunged into a deadly kidnap situation.
Sam and Phil (James Corden) soon find they're dodging bullets and escaping explosions in their quest to save not just themselves, but their loved ones and ultimately their whole town.
Created by and starring BAFTA and Tony Award-winning actor James Corden (One Man Two Guvnors, Gavin & Stacey, The History Boys) and British Comedy Award-winner Mathew Baynton (Horrible Histories, Peep Show).
Sarah Solemani (Him And Her) plays Lizzie Green, Sam's former flame and boss in his local council job. Karel Roden (Hellboy, The Bourne Supremacy), Stephen Campbell Moore (The History Boys), Dan Renton Skinner (Shooting Stars, The Angelos Epithemiou Show), Benedict Wong (Sunshine, Prometheus), Tom Basden (Plebs, Star Stories) and Rufus Jones (Hunderby, Bob Servant Independent) also appear in the cast.
The series is produced and directed by BAFTA and Golden Globe nominee Jim Field Smith (Episodes, Butter, She's Out Of My League).
EB
Search the site
Can't find what you need? Search here
More in Week 39
Updates from the Media Centre
Schedules