Don't Just Stand There, I'm Having Your Baby
Ep. 1/5 -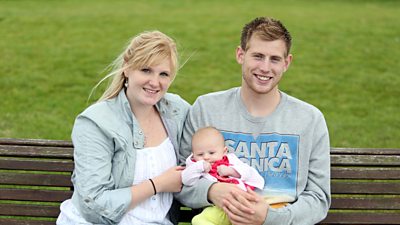 What if you could get more involved in the delivery of your own baby? Across the next five weeks, BBC Three follows clueless dads-to-be as they attempt to learn as much as possible about pregnancy, labour, and the birth.
Their ultimate goal... to become super dads in the delivery room. In episode one, we meet hot-headed Adam and squeamish Callum, both of whom are given an education they will never forget by their midwives Fiona, Kate and Helen.
Callum is the first to admit that he doesn't want to go down the business end during labour. He thinks the whole process is disgusting and when midwife Kate shows him photos of a birth he is positively repelled and starts to feel like he doesn't even want to be in the birth room with Laura. He is worried that seeing too much may put him off sex forever!
Laura is desperate for Callum to be a support in the delivery room but in order to get him more involved in the birth, it appears midwife Kate will have to perform a miracle.
Stress-head Adam is put to the test by Midwife Fiona who, with a simple birth and pregnancy quiz, stumping the clueless dad-to-be with the most basic of questions. Fiona has an uphill battle if she's to get Adam clued up in time to help Lucy during labour.
To help prepare these dads-to-be for what's ahead, the midwives throw them in at the deep end and give them both the responsibility of looking after a robo-baby for 24 hours. Adam's stress levels begin to reach boiling point trying to put a baby car-seat together, but he soon begins to get the hang of being a dad. Meanwhile, Callum manages to palm the baby off onto Laura in an effort to avoid his task. But when Laura finally forces the robo-baby on him, Callum's easy ride comes to an abrupt halt. The two guys meet up for moral support and discuss the task ahead.
As the due dates come ever so closer midwife Fiona realises the best way to teach football mad Adam is by relating birth to the beautiful game. He seems to get the hang of it and when Lucy goes into labour his new-found knowledge and his inability to keep calm are put to the ultimate test. When Laura goes into labour, Callum surprises her with how able he is to deal with the situation. But when the couple arrive in hospital, signs indicate that there could be a problem with the baby and the couples planned water birth goes out of the window. Will Callum keep relaxed and hold Laura's hand throughout what will be a very difficult labour?
Publicity contact: FF
Available From
Monday, March 18, 2013, 9:00 PM