Brazil With Michael Palin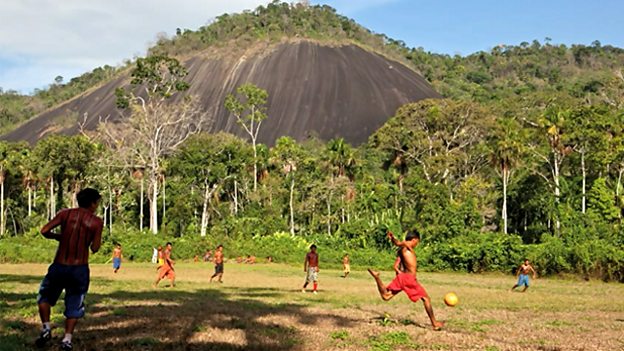 Ep 1/4

Wednesday 24 October
Michael Palin has travelled the world for the past 25 years, earning him a reputation as the man who's been everywhere. But there's one big gap in his passport: Brazil. The fifth-largest country on earth with an abundance of resources and a melting pot of peoples, it's a nation that's risen almost out of nowhere to become a 21st-century superpower, and is next in line to host both the World Cup and Olympic Games. In this four-part series, Palin sets off to discover a country whose time has come.
Michael begins in the north east – where Europeans first settled and grew rich on slave labour. Here, the mix of indigenous people, African slaves, and relatively few Europeans created many of the characteristic elements of Brazilian life: food, dance, music and a multiplicity of religions.
In Sao Luis, European and African religious rituals come together in typically Brazilian celebrations, and Michael heads to the city's backstreets to find out about a ceremony based on a 200-year-old slave tale.
He visits one of the region's massive beaches – the country's great public playgrounds – before heading to the monster sand-dunes of the Lencois Maranhenses National Park. In Recife, Michael tours the city's striking street art and sculptures, and in Olinda, he gets roped onto the dance floor in a country where everybody dances. Journeying inland, he gets a glimpse of the fast-disappearing world of old-style 'vaqueiro' cowboys.
In Salvador, Michael has his fortune read by a priest who practises the local religion of Candomble. He tries his hand at African drumming, samples the Bahian cuisine of a legendary local chef, and is introduced to capoeira in one of the city's shanty towns.
Leaving Salvador, Michael passes sugar-cane plantations on route to a cigar factory, before finishing the first leg of his journey off the coast on a traditional saveiro boat.
SS2
Search the site
Can't find what you need? Search here
More in Week 43
Updates from the Media Centre
Schedules