BBC television Christmas programming
Once again, the BBC brings viewers a bumper box of yuletide treats featuring a whole host of much-loved performers and presenters which will delight and enchant audiences this Christmas.
Published: 26 November 2019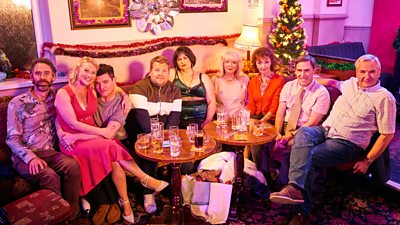 The BBC has assembled a sensational range of programmes to give viewers a festive season filled with Christmas crackers.
Charlotte Moore, Director, BBC Content, says: "The BBC has assembled a sensational range of programmes to give viewers a festive season filled with Christmas crackers. We are bringing back some classic favourites with the likes of Gavin & Stacey, Miranda, Scrooge and Dracula! As well as introducing original new shows too. Whether you're a fan of drama, comedy, entertainment or simply want to wallow in the beauty of the natural world, there really is no better place to be than watching the BBC this Christmas."
Making a welcome return to BBC One on Christmas Day is Gavin & Stacey, from Ruth Jones and James Corden, in which the nation will discover what has been happening to the Shipmans and the Wests in the last ten years, as they all gather in Barry where Uncle Bryn is cooking Christmas dinner for over thirteen people. This one-off special also stars Alison Steadman, Larry Lamb, Rob Brydon, Mathew Horne, Joanna Page, Julia Davis and Adrian Scarborough. And Miranda Hart also returns for a one-off special, Miranda: My Such Fun Celebration, filmed at the London Palladium in which the cast and crew take a fond look back at some of their favourite memories from the past ten years.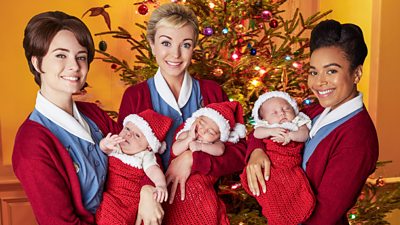 The nuns of Nonnatus House return for a Call The Midwife Christmas Special; and the residents of Albert Square have to cope with secrets and lies in what promises to be an explosive festive episode of EastEnders.
Brand new dramas being shown on BBC One over the festive season include A Christmas Carol with Guy Pearce as Scrooge, and also starring Stephen Graham, Charlotte Riley and Andy Serkis, in a new adaptation from the creator of Peaky Blinders, Steven Knight; Dracula will be brought to life from the pen of Steven Moffat and Mark Gatiss, with award-winning Danish actor Claes Bang in the title role; The Trial Of Christine Keeler, starring James Norton, Ellie Bamber and Emilia Fox, takes a fresh look at one of the biggest political stories of the 20th Century; and the charming The Snail And The Whale, an adaptation of Julia Donaldson's book, is voiced by Dame Diana Rigg, Sally Hawkins, Cariad Lloyd and Rob Brydon. There will also be a special animated adaptation of Sir Michael Morpurgo's children's book Mimi And The Mountain Dragon, with an original score from Oscar winning composer Rachel Portman.
Michael McIntyre's Big Christmas Show, recorded at the London Palladium, will see global superstar Sharon Osbourne bravely hand over her phone for Send To All and Strictly judge Craig Revel Horwood awoken in the middle of the night for a special edition of Midnight Gameshow; and everyone's favourite Irish mammy will be back for two festive specials in Finglas of Mrs Brown's Boys in A Wonderful Mammy and Orange Is The New Mammy
From the Mischief Theatre comes The Goes Wrong Show: The Spirit Of Christmas, in which Santa and his elves try to bring happiness to a sad little girl; and Mackenzie Crook writes, directs and stars in a new adaptation of children's favourite Worzel Gummidge, also starring Zoe Wannamaker, Sir Michael Palin, and Vicki Pepperdine as Aunt Sally.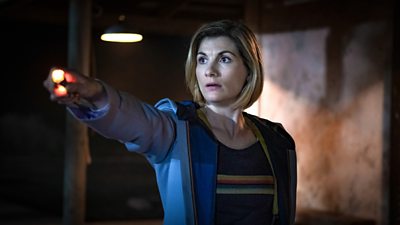 Doctor Who, starring Jodie Whittaker in the title role alongside Bradley Walsh, Mandip Gill and Tosin Cole, returns with a bang for a 12th series of new monsters and a fantastic line up of guest stars.
Mary Berry caters for a very special party for charity volunteers in A Berry Royal Christmas; and following another glittering series, the Strictly Come Dancing Christmas Special returns for an all-star episode as six of the most-loved Strictly stars - Debbie McGee, Chizzy Akudolu, Gemma Atkinson, Joe Sugg, Mark Wright and Richard Arnold take to the dancefloor in a one-off spectacular hosted by Tess Daly and Claudia Winkleman; and Bradley Walsh and Holly Willoughby give members of their audience a chance to win a trip of a lifetime to Lapland in a brand new one off special, Take Off With Bradley And Holly.
During Advent, Songs Of Praise will broadcast two special programmes: in the first, Rev. Kate Bottley will celebrate the Nativity from a Christian-run farm in Devon, and the second will showcase the Christmas Big Sing. The Queen's Christmas Message will once again be a highlight on BBC One on Christmas Day. On New Year's Day, The Archbishop of Canterbury's New Year's Message will look at the year ahead, and the importance of connecting with people.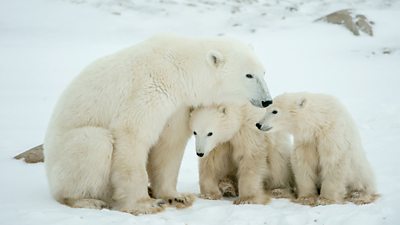 Lovers of wildlife programming also have much to look forward to over the festive season, with Liz Bonnin introducing a cast of charismatic animals in Winter Animals (w/t), detailing some of the remarkable strategies they use just to survive, and there will be a special compilation programme of the best bits from Seven Worlds, One Planet. Animal Park will return to Longleat safari park, where the team are hoping there have been enough donations of odd socks to keep the creatures cosy and warm this Christmas.
Mark De-Lisser will explore our modern day crisis in communication in Meet The Street At Christmas; and The Repair Shop At Christmas will use the team's craft skills to restore some much loved family treasures in time for the festive season.
Dame Edna Rules The Waves, filmed in front of a live studio audience, features special guests Robert Rinder, with music from Niles Rodgers and Chic.
In addition, BBC One will host Christmas specials from some of its best-loved entertainment programmes, including Not Going Out; Still Open All Hours; A Question Of Sport; Celebrity Mastermind; Pointless Celebrities; Would I Lie To You?; The Graham Norton Show; Top Of The Pops; and The Hit List Celebrity Special.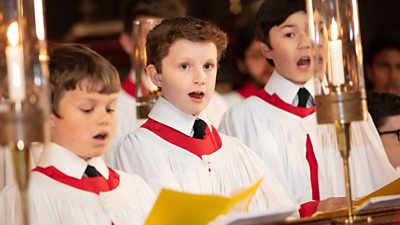 On BBC Two, the Christmas story begins with the lone voice of a chorister singing Once in Royal David's City, in Carols From King's.
A new documentary, Hugh Grant: A Life On Screen, will showcase Hugh's work and interview the man himself about his career; Inside The Christmas Factory will take a look at how the nation's favourite party food is produced; and Gareth Malone's Christmas Concert will put on a choral concert with some of the staff, patients and their families of Watford General Hospital.
There are treats in store for music lovers, with special programming from INXS with Live Baby Live; Liam Gallagher: As it Was; and Dolly Parton: HERE I AM, as well as the ever popular Jools' Annual Hootenanny 2019 and the traditional musical start to the year with New Year's Day Concert From Vienna. And there will be a cinematic reimagining of Romeo And Juliet: Beyond Words, filmed on location with members of The Royal Ballet.
There are more programmes on BBC Two for fans of natural history programming, with Snow Cats & Me, in which Gordon Buchanan travels to Russia to help rescue and rehabilitate lynx back to the wild; and Earth's Tropical Islands will bring a welcome relief from the cold weather, showing the beauty of Madagascar, Borneo and Hawaii.
A Merry Tudor Christmas With Lucy Worsley will take a look back at how Christmas was celebrated during the reign of Henry VIII; whilst Frankie Boyle will reflect on the more recent events of 2019 in Frankie Boyle's New World Order; Rhys Thomas will take an irreverent journey through 2019 in A Year In The Life Of A Year and Philomena Cunk also looks at the major events of 2019 in Cunk And Other Humans On 2019.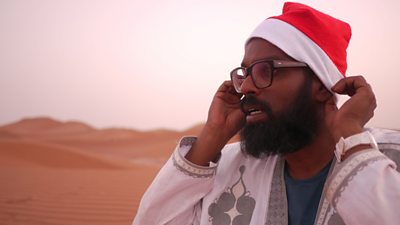 The boys from Top Gear will be back, setting out on an extremely tough road-trip, travelling from Kathmandu in Nepal to the Forbidden City of Lo Manthang. In the latest The Christmas Misadventures Of Romesh Ranganathan, the intrepid presenter will be in the Sahara desert battling heat of 50 degrees Celsius.
Challenged by Giles Coren to recreate an extraordinary tasting menu from 2001 from his restaurant The Fat Duck, Heston Blumenthal will reunite with original staff members in Eat The Years (w/t), looking at how he and his food shaped and mirrored recent British history.
One of the nation's favourite children's books, Paddington, is to be the subject of a special heart-warming programme on BBC Two. A Bear Called Paddington & A Man Called Michael (w/t) will take a look at how author Michael Bond created an international phenomenon with a little bear from Peru. And to sit alongside BBC One's Dracula, BBC Two presents a one-off documentary with Mark Gatiss, In Search Of Dracula (w/t), which explores the Count's transition from page to screen.
There will also be festive episodes of some of BBC Two's best-loved entertainment programmes, including Only Connect; Live At The Apollo; QI; and University Challenge.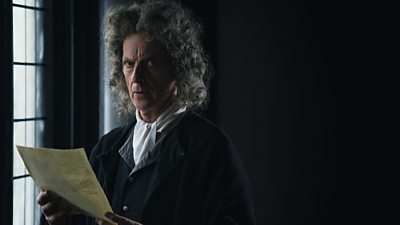 Over on BBC Four, there will be another haunting ghost story for Christmas - Martin's Close, based on M.R. James short story of the same name and starring Peter Capaldi. For lovers of Scandi noir, there will be a brand new Norwegian drama, Wisting, starring Carrie-Ann Moss and Sven Nordin. And another programme set in stunning landscape is The Last Igloo, a feature length documentary that follows a typical day in the life of an Innuit hunter.
The Magic Flute is one of the world's most popular operas, and this version, specially filmed for the BBC audience, is from Glyndebourne Festival 2019. And for lovers of country music, BBC Four will be showing CMA Country Christmas, featuring festive classics and one-off collaborations from artists including Trish Yearwood and Lady Antebellum.
In a series of three lectures broadcast from the Royal Institution's world famous theatre, Hannah Fry will show us how to decode life's hidden numbers, helping us all to make better choices, separate news from fake news, and take back some of the control we have lost, in the 2019 Royal Institution Christmas Lectures.
In addition, BBC iPlayer will be bringing the audience a range of classic drama, top notch entertainment and side-splitting comedy.
Merry Christmas from the BBC
Related Media Packs