BBC Radio 4 Extra
Christmas highlights on BBC Radio 4 Extra.
Published: 25 November 2019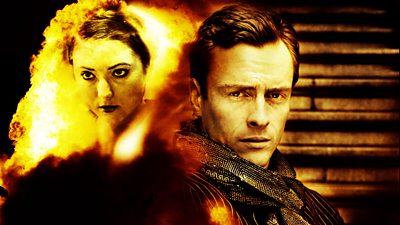 Asian Network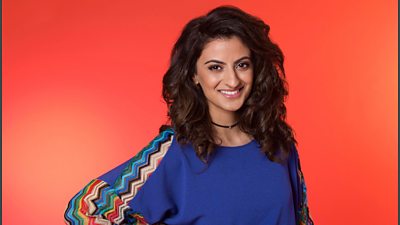 Ho Ho Seven: From Russia With Love
Saturday 21 December, 6am-7.30am
A festive season of Bond begins on Radio 4 Extra with this 2012 dramatisation, starring Toby Stephens as the British Secret Service agent (pictured above).
In Ian Fleming's fifth adventure, it's 1955 and the Russians plan to assassinate Bond with ignominy. A major sex scandal will leave his reputation, and that of MI6, in tatters.
Colonel Rosa Klebb of the KGB devises a plan to lure Bond into their trap, using beautiful Corporal Tatiana Romanova as bait - plus a Spektor, the latest Russian decoding device.
Also starring John Standing as M, Janie Dee as Moneypenny, Julian Sands as Q, John Sessions as General, Mark Gatiss as Kronsteen, Eileen Atkins as Rosa Klebb, Tim Pigott-Smith as Kerim and Martin Jarvis as Ian Fleming.
From Russia With Love was adapted by Archie Scottney and directed by Martin Jarvis, with specially composed music by Mark Holden and Michael Lopez.
From Russia With Love is followed this week by Thunderball, Goldfinger, and Moonraker. The afternoon dramas will be followed by three documentaries: James Bond: Licence to Kilt, which explores 007's Scottish roots; The Woman Who Invented James Bond? Where Miles Jupp investigates whether the novelist Phyllis Bottome could have inspired Ian Fleming; and The Soviet James Bond, where Jupp returns to look at Russia's own fictional super-spy, Colonel Maxim Maximovich Isayev.
First broadcast on BBC Radio 4 in 2012.
Producer: Rosalind Ayres
A Jarvis & Ayres production for BBC Radio 4
Zoe Ball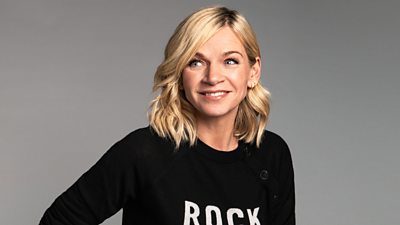 Dan Dare: 21st Century Spaceman (1/2)
Saturday 21 December, 6pm-6.30pm
Science journalist Richard Hollingham explores whether the reality of space exploration is catching up with the Dan Dare universe.
Dan Dare is the British military test pilot turned astronaut who made his first appearance on the front of Eagle in April 1950. The comic went on to sell more than one million copies per week.
Richard meets Alan Bond, a real-life rocket scientist, who owes his career to the pilot of the future.
Richard speaks to writer Richard Kurti about re-inventing Dan Dare for 21st century audio adventures, with further contributions from the cast. The second series of Dan Dare can be heard on BBC Radio 4 Extra afterwards.
Producer: Andrew Mark Sewell
A B7 Media Production in association with Boffin Media
Dan Dare Volume Two (1/7)
Saturday 21st December, 6.30pm-7pm
New to Radio 4 Extra
Dan Dare and his crew finally return to Earth. Landing in central London, they find the city deserted - or that's how it seems at first.
In the first of three new adventures, Reign Of The Robots, Dare faces an army of ruthless machines, who have conquered the planet and placed the surviving humans in slave camps.
The robots are too powerful and too numerous to be resisted, and their invasion is complete.
With limited resources, Dare, Digby and Peabody face their greatest challenge yet - to liberate planet Earth.
But the task becomes more desperate than ever when Dan discovers the alien force behind the robot invasion.
Ed Stoppard stars as Dan Dare, with Geoff McGivern as Digby and Heida Reed as Professor Peabody.
Reign Of The Robots is written by Simon Guerrier.
Producer: Andrew Mark Sewell
A B7 Media Production in association with Boffin Media
Museum Of Curiosity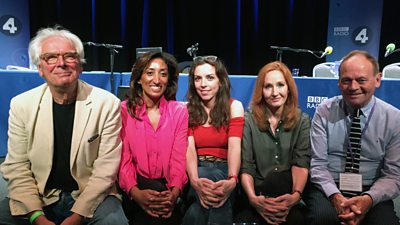 Poetry Extra: The Rime Of The Ancient Mariner
Sunday 22 December, 5pm-5.30pm
Sir Ian McKellen reads The Rime Of The Ancient Mariner, as poet Daljit Nagra makes his festive selection from the BBC Archives.
In Samuel Taylor Coleridge's atmospheric poem, which was first published in 1798, a young wedding guest is detained by a sailor with a 'glittering eye' and a strange tale from the sea.
This poem was recorded at Dove Cottage in the Lake District, where William Wordsworth once entertained Coleridge.
This poem first broadcast on BBC Radio 4 on Christmas Day 2006 and was produced by Susan Roberts.
Producer: Sarah Wade
BBC Radio 4 Extra
Made for Radio 4 Extra
Radio 3 In Concert - Playing in the Dark: Neil Gaiman and the BBC Symphony Orchestra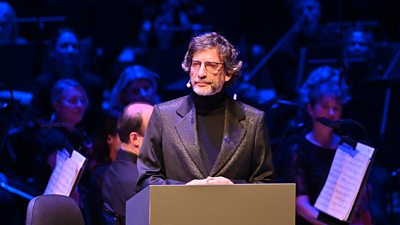 Telling Tales
Tuesday 24 December, 11am-12pm
On Christmas Eve, settle in for some ghost stories and strange tales with the award-winning author, director and screenwriter Jeremy Dyson.
Jeremy began writing his own strange tales when he was still working in a Leeds bookshop, scribbling down notes as he came up with ideas, and selling his first short story to a customer.
But then The League Of Gentlemen took off, a stage show that transferred to radio and then television, with award-winning results for Jeremy, Mark Gatiss, Steve Pemberton and Reece Shearsmith.
We enjoy two unsettling stories from Jeremy's first collection, Never Trust A Rabbit, which was published in 2000 and adapted for BBC Radio 4.
The first story, titled City Deep, taps into Jeremy's very real anxiety about using the London Underground, but quickly descends into something more sinister. The second, We Who Walk Through Walls, is a cautionary tale for anyone who dares to cheapen wonder by using magic for their own ends.
Jeremy remembers The League Of Gentlemen Christmas Special, which transported some favourite characters back to Victorian times. He also talks about Ghost Story, the long-running stage show he co-wrote and directed with Andy Nyman, which was adapted for the big screen last year.
Producer: Ali Gardiner
A BBC Radio 4 Extra Production
Made for Radio 4 Extra
With Great Pleasure At Christmas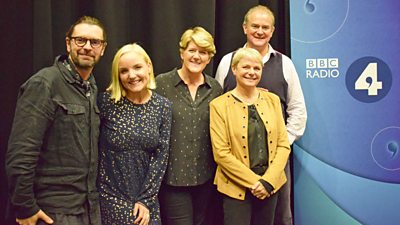 Memories Of A Cad
Thursday 26 December, 11.15am-12pm
Martin Jarvis and Alistair McGowan star in this affectionate comedy drama by Roy Smiles about the relationship between Terry-Thomas and Richard Briers.
While holidaying on the island of Majorca in 1984, Richard Briers - then 50 and at the height of his TV sitcom fame - decided to visit the comic movie actor Terry-Thomas at his home on the other side of the island.
At the age of 73, Terry-Thomas has been suffering from Parkinson's disease for ten years. His memory is fading, his body deteriorating and the work has dried up. He lives in quiet seclusion with his adoring wife Belinda.
He is delighted by the visit of "young" Richard Briers, whom he recognises from the telly. Briers cheers him up by telling him facts about the life Terry has long forgotten - from his cabaret years in the 1930s, to his work in the movies of the Boulting Brothers, which brought him worldwide fame as a 'bounder'.
Also stars Laura Shavin as Belinda and Lewis Macleod as Spencer Tracy.
First broadcast on BBC Radio 4 in 2014.
Producer: Liz Anstee
A CPL production for BBC Radio 4
Puss-in-Boots
Friday 27 December, 10am-11am
Arthur Askey, Anita Harris, Kenneth Connor and Alfred Marks star in this traditional pantomime, recorded in front of a live audience, and first broadcast on BBC Radio 2 on Christmas Day 1979.
Happyland is being terrorised by a giant ogre and his tax-collecting henchman Baron Skinflint.
Tom, the miller's son, falls in love with Princess Rose Petal, and dreams of winning her heart. His recently widowed mother, Dame Flora, has her sights set on the King.
Then a magic sunbeam transforms his cat into the clever Puss-in-Boots. Can Puss help Tom defeat Baron Skinflint and his greedy ogre and win the princess' heart?
Featuring rousing songs and terrible jokes, it's the perfect seasonal entertainment for all the family. Oh, yes it is!
The orchestra, cast and Charles Young Singers are under the musical direction of Graham Ripley.
Cast:
Dame Flora ….. Arthur Askey
Puss-in-Boots ….. Anita Harris
Tom ….. Billy Boyle
Princess Rose Petal ….. Julie Dawn Cole
King Tickle ….. Kenneth Connor
Baron Skinflint ….. Alfred Marks
Giant ….. Ian Wallace
Town Crier ….. Bob Todd
Head of BBC Jokes ….. Fred Harris
Fairy ….. Liza Flanagan
Book and lyrics by Chris Emmett
Producer: Martin Fisher
New to Radio 4 Extra
Sean at Home with Lang Lang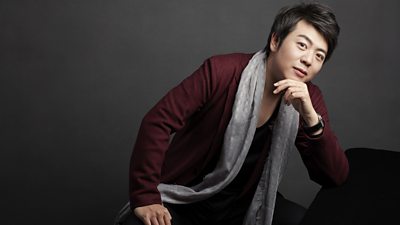 Kaleidoscope: Pantomime
Friday 27 December, 6.30am-7am
Theatre critic Michael Billington interviews the actor and writer John Morley, who loved pantomime beyond all other forms of entertainment.
On his death in 1994, John Morley had more than 250 pantomime scripts to his credit. In 1981, when this interview was recorded, he dominated the festive season with ten professional pantomimes in production around the UK, starring the likes of Ken Dodd, Frankie Howerd and Rikki Fulton.
John wrote his first pantomime at the age of 11, staged Dick Wittington while serving as a Captain in the Coldstream Guards, and his first professional production was Puss-in-Boots at the London Palladium.
The pair discuss the long theatrical history of pantomime, from its Greek etymology to Roman Bacchanalia, the Commedia dell'arte and John Rich's introduction of Harlequin to Drury Lane in the 18th century.
They also discuss pantomime's evolution, enduring popularity and important staples, from booing, to ghastly jokes and the song sheet.
We also hear John Morley talking to Ken Dodd, with whom he worked. They reminisce about opulent former productions, including a memorable Cinderella from producer Freddie Carpenter.
Producer: Richard Dunn
First broadcast on BBC Radio 4 in 1981
New to Radio 4 Extra