BBC Two
Christmas 2018 on BBC Two...
Published: 27 November 2018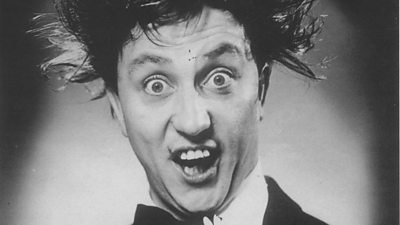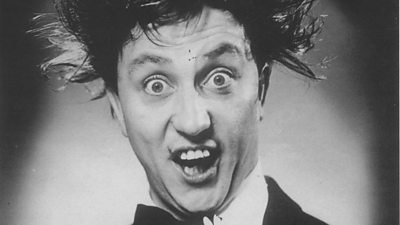 Ken Dodd: How Tickled We Were explores the life and work of the man described by many as "the last great music hall entertainer". Sir Ken's performing career spanned 70 years: his first professional stage engagement was in September 1954 and his final performance in his home city of Liverpool was in December 2017.
After his rapid rise to stardom he stayed at the top of British show business for six decades, with countless television series, radio shows, theatre tours, summer seasons and variety shows, as well as a hugely successful career as a recording artist. He was first and foremost a stage performer, and his work in the theatre ranged from pantomime to Shakespeare. His nights of stand-up comedy, still performed in theatres all over Britain until last year, became legendary for their duration.
Ken Dodd: How Tickled We Were tells Sir Ken's story from his boyhood growing up in the 1930's in Knotty Ash, through his big break into show business and then on to his unrivalled career in entertainment. Poignant and uplifting, the programme features interviews with the people who knew Sir Ken best - friends and family in Liverpool and beyond, and his many colleagues, admirers and fellow-performers from the world of entertainment. The programme also features an interview with Sir Ken's wife, Lady Anne Dodd.
Goodness Gracious Me - 20 years innit!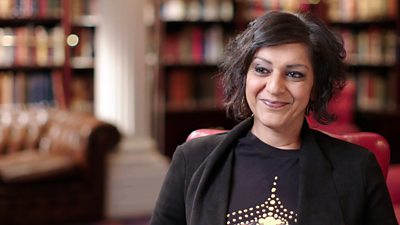 Kiss my chuddies, man, Goodness Gracious Me is 20! And to celebrate this ground shaking, award taking and mould breaking show BBC Two is looking back at some the funniest and most loved moments as we reveal the ten most memorable sketches - decided by comedy fans on a supporting BBC website. We will feature exclusive interviews with its stars and creators alongside other comedians who are fans of the series.
The show created over 100 characters, dozens of catchphrases and some of the standout comedy moments of the last two decades with sketches featuring The Kupers/Coopers, Mr Everything Comes From India, Chunky Lafunga, Cheque Please, Competitive Mums and of course the classic, Going For An English. Goodness Gracious Me may have started as a comedy from a specific cultural perspective, but quickly transcended that to become a multi-award winning, mainstream success with genuine universal appeal.
Two Doors Down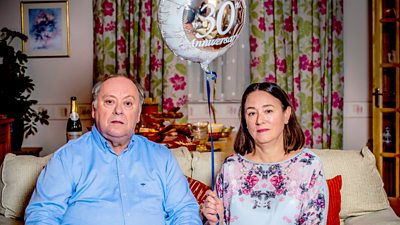 Two Doors Down is returning for a new fourth series on BBC Two.
This new six-part series will once again have its core cast, with Arabella Weir as Beth and Alex Norton as Eric – the long-suffering Bairds whose home is often at the heart of the comedy - and Elaine C Smith as Christine, Doon Mackichan as Cathy and Jonathan Watson as her husband Colin, Jamie Quinn as the Bairds' son Ian and Kieran Hodgson returning as his boyfriend Gordon.
Having been introduced in the last episode of series three, Graeme 'Grado' Stevely and Joy McAvoy will also be back as new neighbours Alan and Michelle.
This new series will see Beth and Eric celebrate 30 years of married bliss, while Christine will stress test the NHS with a temporary hospital stay, and the Bairds will receive a visit from Gordon's parents Sandra and Graham, played by Maggie O'Neill (Shameless, EastEnders) and Alex Kirk (Bad Move).
Upstart Crow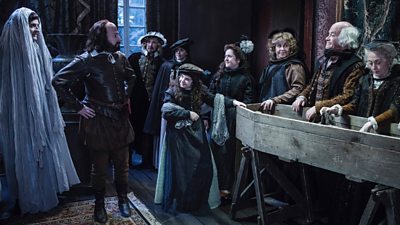 A Crow Christmas Carol
It's a bleak midwinter in the Shakespeare household as the family comes to terms with a cruel loss. But when a mysterious stranger (Kenneth Branagh) offers to share with Will (David Mitchell) a tale of redemption he becomes filled anew with love and light and hope.
Now Will has a mission - to save another soul from despair. He and his family and friends get together to save Greene (Mark Heap) from a mean and miserly life, and arrange for three midnight "ghosts" to visit him before Christmas.
Who is the stranger? Can Will and his family and friend's efforts persuade Greene to change his ways and show some generosity to his servant Job Scratchit? (Karl Theobald) And at the end of it all could this tale of Yuletide redemption be another smash Shakespeare hit on the stage, or is its time not yet come? In short, what the Dickens is going on?
The Morecambe and Wise Show: The Lost Tapes
For the first time since their original broadcast in 1968, two episodes of Morecambe and Wise will be played on BBC Two this Christmas after the original colour tapes were lost for fifty years.
The two, black and white episodes were found in a derelict cinema in Sierra Leone and have been transformed back into colour by decoding colour information within the copies. Both 30 minute episodes featured in the first series when the comedy duo returned to the BBC and one includes an appearance from Michael Aspel.
Frankie Boyle's New World Order
Frankie Boyle's 2018 New World Order sees Frankie tackle the year's biggest news stories in his own unique satirical style. The show features Frankie and guests chewing the fat over their stand out moments of the baffling year that has been 2018.
QI Special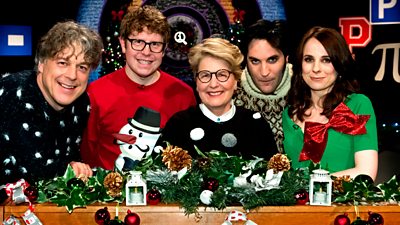 It's Happy (half) Hour down at the QI local, so pile in with Sandi Toksvig, Alan Davies, Cariad Lloyd, Josh Widdicombe and (appropriately enough) Noel Fielding for the ultimate festive P-themed pub quiz. Find out how to pull a pint that never runs out, how to play pool with a chicken, and how many wings an angel really has (spoiler alert: it's not two).
Mock the Week Special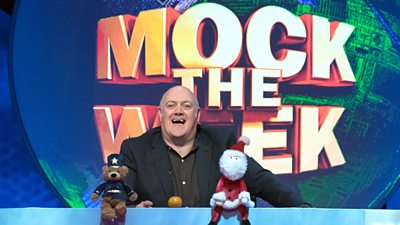 Mock the Week's annual Christmas special returns to BBC Two this December, packed with all the usual festive fun, out-takes and memories of the year gone by.
Dara O'Briain is joined-as ever-by Hugh Dennis along with many of the brilliant young comedians who have appeared in the recently completed seventeenth series of the topical panel show. There'll be the traditional Yuletide Scenes We'd Like to See, a Newsreel from Hugh, as well as a chance to see Dara playing with a magical unicorn, a Polaroid camera and googly eyes and what says Christmas more than that?
Other performers featuring include (amongst others): Ed Gamble, James Acaster, Tiff Stevenson, Ed Byrne, Angela Barnes, Tom Allen, Nish Kumar, Rachel Parris, Milton Jones and Zoe Lyons.
Live at the Apollo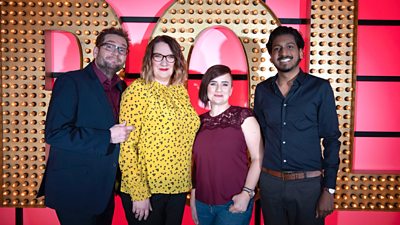 This December the Bafta-nominated Live At The Apollo returns to BBC Two for its fourth annual Christmas special, welcoming some of the biggest and best comedic talent to the stage for some Yuletide frolics.
At the forefront of its genre, the roll call of stand-ups who have performed in front of the famous Live At The Apollo lights plays out like a who's who of comedic royalty, and this series is no different. Each episode sees a national (and sometimes international!) stand-up compering and performing, before introducing two of the best established and up and coming stand-ups to the stage.
In this special festive edition of the award-winning Live at the Apollo, the funny and fabulous Sarah Millican is your host as she introduces the incredibly sharp Ahir Shah, the effervescent Laura Lexx and king of the one-liner Gary Delaney, to the stage.
MasterChef: The Professionals Rematch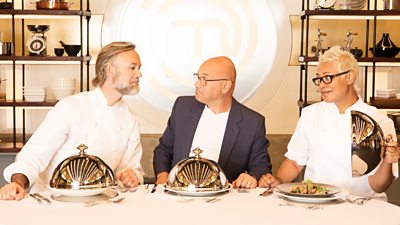 Over the past decade MasterChef: The Professionals has become one of most important culinary competitions in the country with hundreds of the most ambitious chefs putting their careers on the line to battle for coveted title.
Along the way, the Judges have unearthed some exceptional talent and in this one-off special they get out of the kitchen and catch up with five finalists for whom taking part in MasterChef: The Professionals has had a career-changing impact.
Monica Galetti, Marcus Wareing and Gregg Wallace journey across the UK and beyond, to find out where the finalists are now and what they are cooking. Travelling to some inspiring gastronomic destinations including sunny Mallorca, the beautiful Scottish Highlands and picturesque town of Dartmouth, Devon, the judges find the past alumni making waves in the culinary world.
But it wouldn't be MasterChef: The Professionals without an element of competition, so all five finalists return to the MasterChef kitchen to show the judges how much their food has evolved. There's extraordinary food and a determined air of competitiveness between them, as they battle once to prove to the judges that they are best chef in the kitchen.
A Year in the Life of a Year, 2018
Now in its third year, Emmy Award-Winning comedian Rhys Thomas's critically acclaimed, and very silly, end of year show moves to BBC Two.
The Brian Pern creator and Fast Show actor seamlessly re-edits film and television footage from 2018 to create a hilarious, spoof take on the year's cultural events, entertainment smashes and other things. With surprise special guests including Sir Derek Jacobi.
Written, presented and produced by Rhys Thomas.
Dragons' Den: Pitches to Riches?
Dragons' Den: Pitches to Riches returns with business expert and Dragon devotee Steph McGovern joining our five multi-millionaire investors to answer that much asked question: "what happens after the Den?" Steph interrogates the Dragons and steps outside TV's most famous business hot-house to meet the entrepreneurs that delivered the most sensational and emotional pitches of the last three years.
Steph meets up with Amy Wordsworth (the young entrepreneur who famously fainted in the Den) as she and Deborah Meaden receive news that could make, or break their business. Formidable Dragon pairing Tej Lalvani and Touker Suleyman celebrate a defining moment in the life of their knitting handicraft brand, and Peter Jones becomes the face of his tennis events company as they take on big business. But the real question is… have any of them gone from Pitch to Rich?
Dragons' Den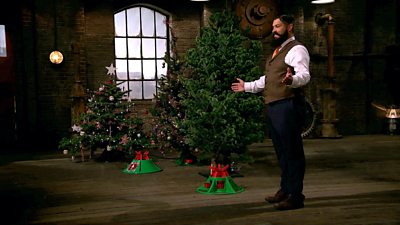 There's a festive mood in the Den as Peter Jones, Deborah Meaden, Touker Suleyman, Jenny Campbell and Tej Lalvani face a batch of nervous entrepreneurs keen to secure the perfect Christmas present - an investment from one of the UK's most influential multi-millionaires.
Tonight, an inventor is hopeful that his Christmas tree stand will become an essential decorating accessory with a little help from a Dragon, whilst an entrepreneur pitching a family games idea gets the investors guessing. The man behind a personalised comic book business must make a big life decision if he wants to secure a Dragon. And, finally, there's a bid for a sweet deal from one of the biggest names in British confectionery.
Nadiya's Party Feasts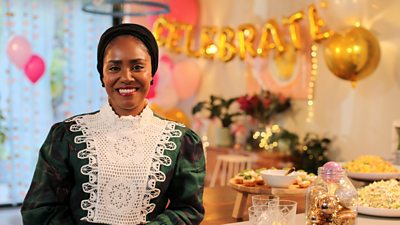 Nadiya Hussain is throwing a party - and everyone is invited. With the party season fast approaching, Nadiya is sharing her favourite celebration dishes that fill the table with vibrant colour, amazing aromas and fantastic flavours. She's making the perfect food to hand around and share, like melt in the mouth halloumi chips and sticky lamb ribs.
She's also preparing a hearty dive-in dish of beef chilli and jalapeño corn bread and some vibrant salads: Brussels sprout slaw and pomegranate parsley tabbouleh. And a party wouldn't be a party without some fantastic desserts, and Nadiya's chocolate eclair roll and passion fruit bundt will keep the guests coming back for more.
Nadiya will also meet people around the country who have their own special reasons to celebrate. She will join a group of school children as they deliver a big thank you to 95-year-old volunteer Jack, lend a hand preparing a spectacular trifle and help bake an extra special cake for the joint 30th celebration of twin sisters Sonia and Sinitta.
Nadiya's Party Feasts (1x60') is a Hungry Gap Production. Pete Lawrence is the Executive Producer. It was commissioned by Patrick Holland, Controller, BBC Two and David Brindley, Head of Commissioning, Popular Factual and Factual Entertainment. The Commissioning Executive is Ricky Cooper.
The "Christmas" Misadventures of Romesh Ranganathan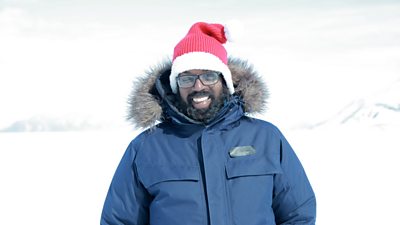 Comedian and TV presenter Romesh Ranganathan is travelling the furthest he's ever travelled outside of his cosy comfort zone as he heads to one of the coldest and most hostile environments on earth. In this Christmas Special for BBC Two, Romesh gets an insider's guide to the Canadian Arctic and finds out if his preconceptions about this remote part of the world are right, or whether there is more to this area than the prospect of freezing to death or being eaten by a polar bear.
Travelling across frozen wastelands to spend a week in the largest territory of Canada, he will be guided by his host - Inuit athlete, movie star, youth ambassador and renowned hunter Johnny Isaaluk. As well as the beauty and the majesty of the frozen scenery Romesh will also encounter a different side to the Arctic as he gets to grips with the hunters way of life just to survive (as a vegan he's just considered to be an incompetent hunter). He'll also witness the erosion and resurgence of Inuit traditions, and discover why alcohol is often restricted in the communities.
So has Romesh got it wrong about the Arctic? Romesh sets off to find out if there is anything worth travelling there for.
The "Christmas" Misadventures of Romesh Ranganathan (1x60') is a Rumpus Media production for BBC Two. The executive producers are Morgan Roberts and Emily Hudd and the series director is Chris Cottam. It was commissioned by Patrick Holland, Controller, BBC Two and David Brindley, Head of Commissioning, Popular Factual and Factual Entertainment.
Mary Berry's Country House at Christmas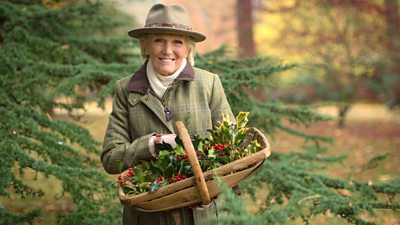 When it comes to Christmas food and entertaining, Britain's country houses have always put on a show. In this sumptuous and heart-warming programme, Mary Berry visits Harewood House in Yorkshire, one of the nation's most beautiful stately homes, to meet its army of skilled staff and dedicated volunteers as they prepare the house for Christmas. Mary shows us how to make delicious modern recipes inspired by forgotten Christmas dishes of the past, and discovers how houses like Harewood celebrate Christmas on a grand scale.
Harewood's volunteers are the life and soul of the house. Mary discovers their stories as she helps them bake gingerbread and decorate the tree. Delving into the archives, she finds out about the inspiring story of Princess Mary, 6th Countess of Harewood, who helped provide Christmas gifts for serving soldiers during the First World War. Then she heads out into Harewood's spectacular grounds, discovering winter gardening tips, and gathering winter foliage for her own seasonal decorations
Mary's visit culminates in a glittering party for staff and volunteers who gather together to preview the house's spectacular Christmas decorations and celebrate another magical Christmas at Harewood.
Mary Berry's Country House At Christmas (1x60') is a Shine TV production for BBC Two. The executive producer is Lorna-Dawn Creanor, the producer/director is Mark Bates. It was commissioned by Patrick Holland, Controller, BBC Two and David Brindley, Head of Commissioning, Popular Factual and Factual Entertainment. The BBC Commissioning Editor is Clare Mottershead.
Chris and Michaela Under the Christmas Sky
In this festive family treat for BBC Two, Chris Packham and Michaela Strachan take viewers on a Christmas adventure to explore some of nature's greatest celestial wonders and winter wildlife.
Journeying through some of the most incredible winter landscapes on earth, Chris and Michaela uncover secrets of the night sky and animal phenomena that are unique to this time of year.
Their quest takes them to the stunning Arabian desert in Jordan in search of the 'star of Bethlehem' - a rare conjunction of two planets that appear very bright and close together in the night sky - a phenomena that some astronomers believe could have been the basis for the religious story. Following in the desert adventures of the Three Wise Men, Chris and Michaela experience traditional nomadic Bedouin life. They camp under the stars, cook in the sand, and learn the importance of conserving the desert's vulnerable wildlife.
Deep in Norway's frozen wilderness, Chris and Michaela go in search of the spell-binding Northern Lights, and explore how life thrives in these sub-zero conditions. They go snow-mobiling with an indigenous Sami family; uncover how Rudolf the Reindeer survives the winter months; discover the clever tactics that sea eagles use to feast; and even try their best at husky sledding.
Full of festive fun, Chris and Michaela bring the full wonder of Christmas nature to everybody's living room.
Chris and Michaela Under the Christmas Sky (1x60') is a Windfall Films production for BBC Two, the executive producer is Dan Kendall. It was commissioned by Patrick Holland, Controller, BBC Two and Tom McDonald, Head of Commissioning, Natural History and Specialist Factual.
The Snow Wolf: A Winter's Tale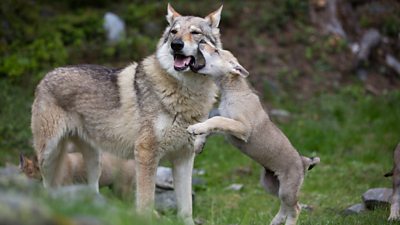 The Snow Wolf: A Winter's Tale is a dramatised natural history special for BBC Two, following the odyssey of an extraordinary mother wolf through the frozen heart of Europe.
Deep in the Dolomites, a pack of wolves led by an alpha female and her mate have raised their family to become powerful and formidable hunters. But a tragic event turns their lives upside down, and the mother must flee the pack and embark on a perilous journey through the frozen Alps, in search of a new territory and a new life. On the way, she gives birth to six cubs which she must protect from humans and predators in what will be the biggest challenge of her life.
The Snow Wolf: A Winter's Tale tells the epic fight of an exceptional mother who, against all the odds, must survive and protect her offspring.
The Snow Wolf: A Winter's Tale is a Boréales-Winds-France Télévisions co-production, with the participation of BBC and Planète+. The executive producer is Frederic Fougea. It was commissioned by Patrick Holland, Controller, BBC Two and Tom McDonald, Head of Commissioning Specialist Factual. The Commissioning Editor for the BBC is Craig Hunter.
Grizzly Bear Cubs and Me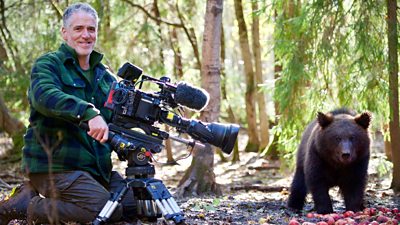 Gordon travels to the snowy Russian wilderness to help return six orphaned bear cubs back to the wild in a heart-warming two-part Christmas special.
Around the world each winter, thousands of baby grizzly bears are left orphaned after their mothers are killed or frightened away by humans. But can these hand-reared predators ever be safely returned to the wild? Starting in winter and over the course of one year, Gordon will live with a remarkable Russian family to find out.
For 25 years the Pazhetnov family have devoted their lives to help release orphaned bears and this year Gordon will join them. Tending to the bears' every need he will become a surrogate parent to the cubs. Bottle feeding them every four hours, teaching them how to climb, how to forage and even how to swim, before releasing them into the wild to fend for themselves.
Can this year's youngsters be safely reared and rehabilitated? What Gordon learns may change our perception of bears forever. But is it too late for this feared predator, in a land where conservation and hunting go head to head?
Grizzly Bear Cubs and Me (2x60') is made by Hello Halo (Scotland) and Oak Island. The Executive Producers are Wendy Rattray and Ted Oakes. It was commissioned by Patrick Holland, Controller, BBC Two and Tom McDonald, Head of Commissioning, Natural History and Specialist Factual. The BBC Commissioning Editor is Craig Hunter.
Inside the Christmas Factory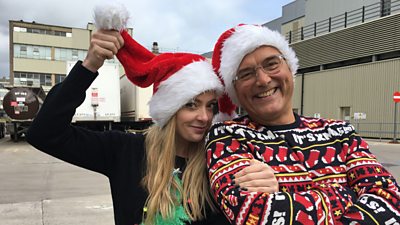 In this Christmas special, Gregg Wallace visits the Quality Street factory which produces a staggering 2 million tins of festive chocolate assortments a year, whilst Cherry Healey goes behind the scenes to learn how the Royal Mail produces Christmas stamps.
Chocolates are an essential part of many people's festive celebrations. Everyone has their favourite (for Gregg it's the purple wrapped caramel coated hazelnut) and in this festive special he follows the supersized batches of the toffee, orange and strawberry varieties on their journey from tanker to tin. In just one hour 800 kilos of toffee is cut into precise 10mm x 55 mm sticks before disappearing under a chocolate waterfall. And with 5,500 individual chocolates packaged and dropped into tins every minute, Gregg will be there to follow the process that puts colour into Christmas across the UK.
Cherry travels to Germany - the home of many of our Christmas traditions - where she joins a crew of 35 ornament decorators, applying glitter and paint to an army of glass Santa's. She also goes behind the scenes at the Royal Mail as the Christmas stamps that will grace the envelopes of around 1 billion cards this year, are printed.
And historian Ruth Goodman is on the trail of the Christmas turkey. The tradition began in the 16th century when the birds were first introduced from Mexico. But at the equivalent of £450 per bird, only the richest could afford them. It wasn't until the 1950s that selective breeding made them truly affordable for the masses. And this year we'll tuck into 10 million of them.
Inside The Factory (1x60') is a Voltage TV production for BBC Two. It was commissioned by Patrick Holland, Controller, BBC Two and Tom McDonald, Head of Commissioning, Natural History and Specialist Factual. The Executive Producers for Voltage TV are Sanjay Singhal and Amanda Lyon. The BBC Commissioning Editors are Abigail Priddle and Emeka Onono.
Amazing Hotels Christmas Special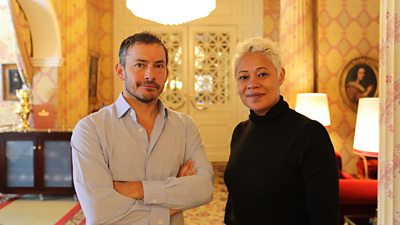 In this festive season's special of Amazing Hotels Christmas 2018, Giles Coren and Monica Galetti travel to Kulm Hotel St Moritz, the first hotel to be built in the glamorous Swiss resort - and the birthplace of winter tourism.
Amazing Hotels Christmas Special (1x60') is a BBC Studios production for BBC Two. The executive producer is Samantha Anstiss. It was commissioned by Patrick Holland, Controller, BBC Two and Tom McDonald, Head of Commissioning, Natural History and Specialist Factual. The Commissioning Editor is Abigail Priddle
Raymond Briggs: Snowmen, Bogeymen & Milkmen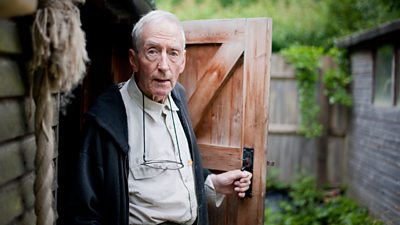 Forty years ago Raymond Briggs used a pot of coloured pencils to create The Snowman, a wordless book of illustrations which would inspire the film enjoyed by millions of British households every Christmas.
His timeless story of the friendship between a young boy and a Snowman continues to delight generation after generation with its effortless blend of warmth, humour and sadness.
After creating an instant classic with The Snowman, Briggs disturbed a generation with his anti-nuclear story When the Wind Blows, enthralled kids and adults alike with Fungus the Bogeyman and Father Christmas and in recent years, moved readers to tears with Ethel & Ernest, a touching account of his parents' life story.
Raymond Briggs has been celebrating the ordinary and making it extraordinary for five decades. And the characters he's created have been both popular and influential. As Nick Park says in the film, he couldn't imagine Wallace and Gromit without the experience of reading Briggs' books.
This playful, moving and often emotional portrait is told through interviews with Raymond, specially commissioned animation illustrated by Chris Riddell, and contributions from friends, colleagues and admirers, including Andy Serkis, Nick Park, Steve Bell, and Posy Simmons.
Raymond Briggs: Snowmen, Bogeymen & Milkmen is a BBC Studios production. The Executive Producer is Richard Bright. It was commissioned for the BBC by Mark Bell.
An American In Paris: The Musical
This breathtakingly beautiful Tony award-winning Broadway musical, inspired by the 1951 Oscar winning film, tells an impassioned story of discovering love. This production features the gorgeous music and lyrics by George and Ira Gershwin (including the classic hits S'Wonderful and I Got Rhythm), stunning designs, and show-stopping choreography.
An American in Paris tells the story of Jerry Mulligan, an American GI striving to make it as a painter. Following a chance encounter with a beautiful young dancer named Lise, the streets of Paris become the backdrop to a sensuous, modern romance of art, friendship and love in the aftermath of war.
Swan Lake from the Royal Opera House
The Royal Ballet performs Tchaikovsky's magnificent classical ballet in a brand-new production by young choreographer Liam Scarlett, with sumptuous and evocative designs by John Macfarlane.
The Royal Ballet's new production of this iconic classic - the first in over 30 years at Covent Garden - garnered 5-star reviews when it opened in May. Starring the Argentinian ballerina Marianela Nuñez in the hugely challenging dual-role of Odette/Odile, with Vadim Muntagirov as Prince Siegfried, the ballet is a showcase for the whole Company, who dazzle in full royal finery during the ball at the palace and in delicate feathered tutus as flocks of swans in the unforgettable scenes at the moonlit lake.
Swan Lake tells the story of Prince Siegfried, who chances upon a flock of swans while out hunting. When one of the swans turns into a beautiful woman, Odette, he is enraptured. But she is under a spell that holds her captive, allowing her to regain her human form only at night. Siegfried holds the power to break the curse with a promise of true love – but the evil Von Rothbart disguises his daughter Odile as Odette to trick Siegfried into breaking his vow.
Presented by Dame Darcey Bussell and Ore Oduba.
Produced by Tony Followell and Peter Jones
New Years Day Concert
Petroc Trelawny hosts the traditional musical start to the year with music from the Golden Hall of the Musikverein in Vienna.This year's concert is led for the first time by the German conductor Christian Thielemann, leadomg the Vienna Philharmonic in an array of polkas, waltzes and gallops by the Strauss family and their contemporaries.
As always the concert will end with the ever-popular By the Beautiful Blue Danube and the foot stamping Radetzky March.
This concert is transmitted to some 50 million viewers in over 90 countries.
Billy Connolly: Made in Scotland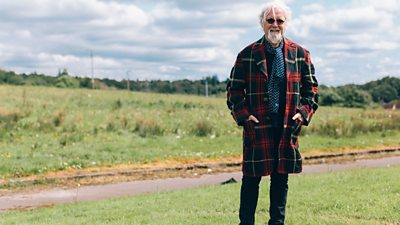 In the history of comedy there is a line in the sand - and that line is Billy Connolly - put simply, through sheer talent and force of personality, he has changed the face of British comedy forever.
He's been called the Beatles and Jesus of comedy by his peers and an immature 'manure mouth' by a leader of the Scottish Zion Baptist Church. So say what you like about him but you can't deny everyone wants to know him. And that's what Made In Scotland is about, it's Billy as you've never seen him before, intimate, deeply personal and very funny.
Weaved around private interviews with Billy, along with contributions from some of the greatest names in comedy and popular culture offering testimony on Billy his lasting influence, these two one hour specials for the BBC find Billy returning to Scotland to reveal the influences and motivations that turned him from being Billy Connolly the welder into Billy Connolly The Big Yin.
Happy New Year, Colin Burstead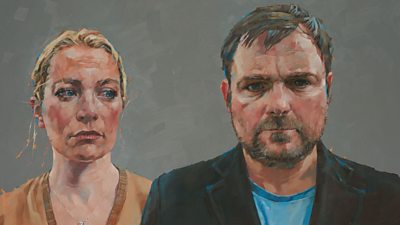 Acclaimed British director, Ben Wheatley brings his dark comedy about a family reunion gone horribly wrong, Happy New Year, Colin Burstead to BBC Two this Christmas.
The film centres around Colin Burstead (Neil Maskell) who hires a lavish country manor for his extended family to celebrate New Year. Unfortunately for Colin his position of power in the family is under serious threat from the arrival of his estranged brother David.
Happy New Year, Colin Burstead features an outstanding British ensemble cast including Asim Chaudhry, Joe Cole, Charles Dance, Peter Ferdinando, Richard Glover, Alexandra Maria Lara, Doon Mackichan and Neil Maskell alongside Sinead Matthews, Mark Monero, Bill Paterson, Sam Riley and Hayley Squires.
Airing on BBC Two at the very moment families everywhere find themselves thrown together for the Christmas season, it promises to make audiences snigger and squirm in equal measure. The film will also be available to watch on BBC iPlayer for a year.
Merry Christmas Baby - with Gregory Porter & friends
Join Gregory Porter and friends for Merry Christmas Baby, a seasonal cocktail of music and song with a warm and joyful, festive jazz vibe.
Gregory's special guests include singer-songwriter Corinne Bailey Rae and legendary jazz saxophonist Courtney Pine who join him for an evening of traditional Christmas classics and jazz standards. Filmed in front of an intimate live audience in Cardiff Bay, Merry Christmas Baby has all the ingredients of a joyful winter warmer making it the perfect offering for a mellow Christmas night. Performances include Merry Christmas Baby, Silent Night, Take me to the Alley and The Christmas Song.
Christmas at St Paul's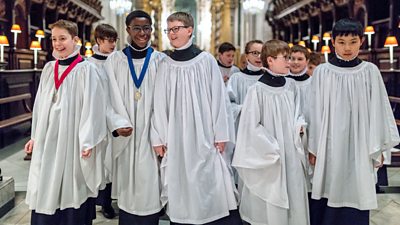 For the first time in its history, St Paul's has granted the BBC privileged access to film behind the scenes in the countdown to Christmas and on the big day itself. With over 45,000 visitors attending 17 magical services and events, the pressure's on for the team gearing up for cathedral's busiest time of the year.
We'll be backstage when celebrities like Michael Palin perform at the most glamorous event in the cathedral's calendar, when three huge Christmas trees gifted by the Queen and each weighing more than a tonne are hauled into place, and when 2,500 worshippers arrive for the cathedral's iconic, candle-lit Advent Procession. We'll discover the enormous logistical challenge that goes into supplying enough consecrated wine and wafers for the thousands that attend Midnight Mass and eavesdrop on the team of expert embroiderers restoring priceless Christmas vestments in the bell tower. We'll meet the 12-year-old boy hoping to sing the big Christmas solo and be with the cathedral's 30 choristers as they open their presents on Christmas Day. This is St Paul's Cathedral as you've never seen it before.
Luke Korzun Martin: Producer/Director
Katie Buchanan: Executive Producer
Carols from King's
A feast of carols and readings, Carols from King's returns to celebrate the birth of Jesus Christ, in the glorious setting of the Chapel of King's College, Cambridge.
Beginning with a solo choirboy singing the first verse of Once in Royal David's City, this traditional and much loved celebration of the Nativity is told in the words of the King James Bible, a poem by Laurentia Johns OSB, and a letter written from a soldier in France in 1915, telling of the Christmas Truce.
The world-famous Choir of King's College, directed by Stephen Cleobury, sing carols including In the Bleak Midwinter (arr. Darke), Stille Nacht (arr. Ledger) and What Sweeter Music (Rutter).
Hymns marking the centenary of the Festival of Nine Lessons and Carols, on which Carols from King's is based, include Unto Us is Born a Son and O Come All Ye Faithful.
Internationally acclaimed musicians, baritone Roderick Williams and cellist Guy Johnston, join the choir for Fantasia on Christmas Carols (Vaughan Williams). Guy Johnston (ex-King's chorister and previous BBC Young Musician of the Year) also features in O Mercy Divine, a new commission, composed by Judith Weir, Master of the Queen's Music.
Director/Producer: Pamela Hossick
Producer: James Whitbourn
Executive Producer: Hugh Faupel