BBC Four
Christmas 2017 on BBC Four...
Published: 28 November 2017
Christmas 2017 on BBC Four...
The Galaxy Britain Built: Droids, Darth Vader and Lightsabers
Star Wars super-fan David Whiteley tells the story of how the most famous galaxy in movie history was created just off the M25. The British men who created props, sets and costumes that have dominated the culture of a generation share the story of how they did it on a rock bottom budget out of junk. The programme includes interviews, archive film and some early drawings that have never been seen on TV.
PD
Eric, Ernie & Me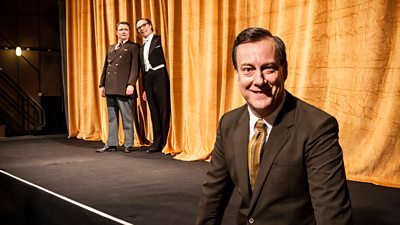 Eric, Ernie & Me celebrates Eddie Braben, the man behind Morecambe and Wise's greatest successes, culminating in their iconic 1977 Christmas Show, whilst showing the pressure and pain he went through to help create the screen work of Britain's most beloved double act.
Starring Stephen Tompkinson (DCI Banks, Drop the Dead Donkey) as Eddie, Mark Bonnar (Apple Tree Yard, Catastrophe) as Eric Morecambe and Neil Maskell (Humans, Utopia) as Ernie Wise.
SK2
La Bohème
Sir Antonio Pappano, the Music Director of the Royal Opera House, conducts a brand-new production of Puccini's popular masterpiece, La Bohème - a tale of friends and fellowship, love and loss, set in nineteenth-century Paris. A stellar cast of young singers, including Michael Fabiano, Nicole Car and Mariusz Kwiecień, come together for this unforgettable story about a group of aspiring artists living in a freezing Parisian garret. Into their world comes a young seamstress, battling with a terrible disease.
Ever since its premiere in Turin in 1896, La Bohème has been a huge hit with audiences around the world, clocking up over 500 performances at London's Covent Garden alone. This is the first new production at the Royal Opera House in over 40 years, created by the acclaimed British theatre director Richard Jones, with designs by Stewart Laing.
Presented by Clemency Burton-Hill.
SRB
A Year in the Life of a Year 2017
Following the success of last year's spoof review about 2016, Emmy Award-Winning director Rhys Thomas has done the same thing again but about a different year. And it's timely that the year he's doing it about this year is the year the we are in now, 2017.
The Brian Pern creator seamlessly re-edits film and television footage from the top twelve months of 2017 to create a hilarious, spoof take on the year's cultural events, entertainment smashes and other things.
Written, presented and produced by Rhys Thomas.
PD
Spiral
Three years on from its previous instalment, Guy-Patrick Sainderichin and Alexandra Clert's acclaimed French drama returns for a sixth series (12x50').
When a torso is discovered on a Paris street, a new and complex investigation begins for Laure Berthaud and her team that will put them - and their loyalties - to the test.
PD
Elvis: The Rebirth of the King
The widely accepted Elvis narrative is that The Vegas Period was the nadir of his career but this film argues that Elvis reached his peak, both as a singer and performer in the first few years of his Vegas period. He became, in those short years, the greatest performer on earth.
Elvis: Rebirth of The King, tracks this five year renaissance with some of his key musical and artistic collaborators of the period, including the creator of his most memorable jumpsuits, to celebrate the greatest pop reinvention of all time!
PD
Wild Wanderings: Turtle, Eagle, Cheetah
As a very special Christmas treat, BBC Four is taking viewers on a magical and mysterious journey into the natural world - by riding on-board three incredible animals. Unfettered by human camera teams, the audience will be transported deep into these different animal worlds - land and sea and sky.
Using the latest on-board wearable technology, pioneered by leading Scientists and the BBC's Natural History Unit – Three Cheetah must work together in their search for prey, navigating the Bushveld of Namibia. A green turtle comes face to face with the residents of Indonesia's most beautiful coral reefs. Whilst a White tailed Sea Eagle soars above the rugged West Coast of Scotland, battling the force of nature.
With embedded graphics giving further insight into the animals' worlds, their adventures and encounters turns into an immersive and mesmerising experience.
PD