The Worst Witch
CBBC brings The Worst Witch to life for a new generation
Meet the teachers
Date: 11.12.2016
Last updated: 11.12.2016 at 15.00
Meet the teachers at Miss Cackle's Academy for Witches.
Miss Cackle (Clare Higgins)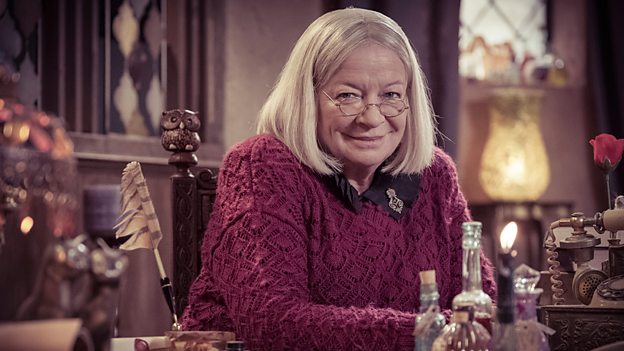 Miss Cackle is headmistress of the Academy and inherited the family business by virtue of being the oldest daughter - at 13 minutes older than her twin, Agatha. A biscuit-munching, cardigan-wearing, cat-loving middle-aged woman, Miss Cackle appears much less threatening than her severe deputy, Miss Hardbroom. But don't take her more relaxed attitude for weakness: if you cross her, you'll know about it.
Miss Hardbroom (Raquel Cassidy)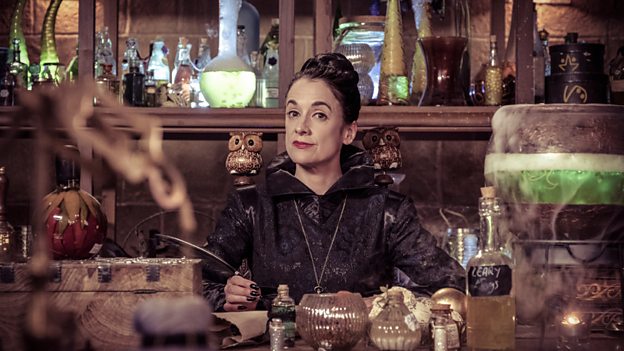 Deputy head Miss Hardbroom is tough but fair - in her own mind at least. She's had an austere upbringing and is actually rather lonely and (some might say) repressed. For her, witchcraft is all about strict traditions and sacrifice, and demands high levels of discipline, commitment and hard work from her students. Miss Hardbroom is genuinely concerned that one day Mildred's chaotic magical abilities will cause a disaster - which is why she is particularly hard on her.
Miss Bat (Wendy Craig)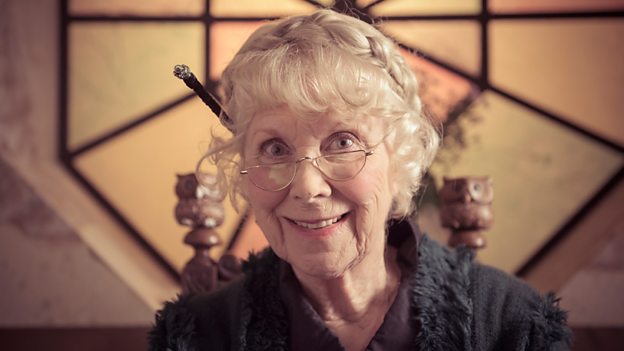 Chanting mistress, Miss Bat is... old. Nobody knows quite how old - or dares to ask - but witches are extremely long lived. Vague and easily distracted, Miss Bat is the perfect teacher from the girls' point of view as they can easily get out of boring chanting practice by running rings around her. But is Miss Bat much sharper than she appears?
Miss Drill (Shauna Shim)
Miss Drill is in charge of gym, games and all-round physical education. This is a very important subject as witchcraft can be physically demanding. In body she is very strong and she is endlessly chirpy and enthusiastic. One of the less intimidating teachers, she is perhaps the first port of call for a girl who's got herself into a troublesome situation.
Miss Gullet (Kacey Ainsworth)
Miss Gullet is a boring teacher. Her monotonous voice can send the most lively pupil to sleep. She finds nothing more exciting than a thousand page text book and is a stickler for rules. But underneath the dull façade lies a witch with a ruthless streak - it's not easy to get ahead when you read rule books for fun. One thing's for sure, she knows how to keep a secret and she's kept one particular secret for over 30 years.
Miss Tapioca (Zita Sattar)
The food at Miss Cackle's has a reputation for being pretty disgusting. Not only do the basement kitchens mean the food is always cold, it's not worth waiting for anyway. At the helm is long-suffering cook Miss Tapioca, who has questionable personal and food hygiene standards to say the least! Straight talking and a bit rough round the edges, she would like to be recognised for her talent.
Mr Algernon Rowan-Webb (Philip Martin Brown)
The school's long-lost biology teacher and only wizard at the academy. After an altercation with a jealous teacher in which he was turned into a frog, he had been living in the school pond for 30 years. When Mildred helps to restore him to his true form he befriends her and returns to the castle to reclaim his old job - as well as his lost love, Miss Bat.
Julie Hubble (Nicola Stephenson)
Mildred's mum is someone who's always had her head in the clouds, searching for a better life. But her feet have had to be firmly stuck in reality. She's creative and artistic and travelled a lot in her 20s, when she had a fling with Mildred's dad, but life then became more about providing for Mildred and less about discovering the world.
She's a hard worker and a lioness where Mildred is concerned - she doesn't hesitate to put Miss Hardbroom in her place. She and Mildred are best friends, and when her daughter goes to Cackle's not only are Ms Hubble's eyes opened to the world of magic, she also has to adapt to daily life without Mildred.
Agatha Cackle (Clare Higgins)
Agatha is Miss Cackle's identical twin sister and sees herself as the victim of a great injustice: she was denied her rightful place as Headmistress of Cackle's just because she was 13 minutes younger than her sister. Ever since she has been consumed with jealousy and an urge to prove herself. She thinks she can make a positive difference to the academy.
Search the site
Can't find what you need? Search here