An interview with Sean Bean
Sean Bean plays Douglas Bennett in World On Fire.
Published: 24 September 2019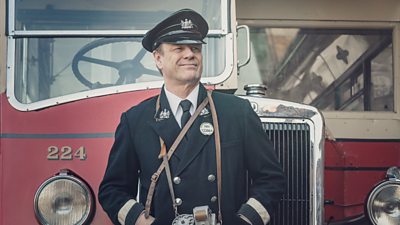 I've always been interested in how people like Douglas Bennett were shunned within their community. You're going totally against the propaganda and the general feeling of the country by standing up and saying 'I'm a pacifist'.
Describe the character of Douglas - what it was about him that drew you to the script?
Douglas was involved in the First World War and was so mentally damaged by shell shock that it has an influence on how he viewed everything to do with the Second World War. He doesn't believe in war as a means of achieving objectives. He thinks there should be negotiation and people should be trying to communicate.
At this point, no one is aware of the impact that this second war is going to make on the world but from his experience of the First World War he always wondered what it was all for. The people who fought were cannon fodder with no real understanding of why they were fighting. For Douglas it was a futile war, that left him mentally scarred and suffering from flashbacks, anxiety, insecurity and a slight leaning towards madness.
Where does Douglas fit into the Bennett family set-up?
The Bennett family consists of Douglas, son Tom and daughter Lois. Lois is the backbone of the family and is a strong-willed woman. She runs the everyday life of the family, leaving Tom and Douglas to just sit about the kitchen and wait for her to make cups of tea and feed them. 
They're working-class men and are very down to earth. Douglas' wife died years ago so he's brought the children up somewhat on his own. He's been trying to keep it together but he's weak and he's depressed from the First World War and he's nervous and unsure about the future. It's difficult for him to relate to his children at times and it's difficult for them to know how to treat him without robbing him of his dignity or his independence.
Tell us about the relationship that develops between Douglas and Robina.
Douglas and Robina meet purely because of Harry and Lois' relationship. It's a very unlikely relationship, a working-class bus driver and a very gentrified lady of the manor as it were. They're thrown together because of their children's relationship. It's quite an interesting friendship that emerges between them. Some people are thrown together who would never otherwise meet, but Robina recognises that Douglas is an intelligent man and has a warmth of personality that she finds both alien and interesting to her.
Explain how Douglas and Jan are thrown together, and how that friendship develops?
A big element in the relationship between the Chase family members and the Bennett family is the young Polish refugee Jan, whom Harry brings home from war. Jan is being brought up by Robina, and Douglas gets to know Jan well and becomes really fond of him. He befriends Jan and plays football with him; he shows him some fatherly love. Douglas sees him as another son and I think Jan sees Douglas as a surrogate father figure. They form a really interesting and quite touching relationship.
How does he feel when his son and daughter both head off to service the war in their different ways?
As a pacifist, Douglas has to watch his daughter Lois go off to join the entertainment corps ENSA, and then sees Tom join the navy and go to war on the HMS Exeter. This terrifies Douglas, yet when Tom returns on leave he wants Douglas to sanction him becoming an objector and essentially going AWOL - but no matter what he is, Douglas is not a coward and doesn't give his blessing to Tom.
He's a man of morals and he knows what this would mean for the pacifist organization that he belongs to, but more importantly what it could mean for his son if he is caught. He could be court marshalled and disgraced and he doesn't want that for Tom. Tom is many things, and headstrong, but to live his life as a cowardly criminal or be executed is not what Douglas' wants for Tom, so the only way out of that situation is to encourage him to go back to war and possibly certain death. It weighs heavy on Douglas.
Describe the scale of this show. 
It's an amazing production that I became engrossed in as soon as I read it the scripts. In some ways it's like a completely captivating novel and every individual seemed to be portrayed as unique. They all have their particular ambitions, dreams and jobs before the war starts and then their fears and dread as events unfold are the same across all the countries we show. They are all coming to terms with the changes that are happening in their lives and realise that, for some of them, ridicule, intimidation and persecution are coming down the line because of their beliefs and simply for being who they are.
Do you have any personal memories of family members who were alive during the war?
My mother and father were born just before the war started in the 1930s. They used to tell me stories about how they used to wear the gas masks. My auntie and uncle had an Anderson shelter in their shed (that's still there today) that we used to play in it when we were little. It was very flimsy as bomb shelters go and I'll always remember those moments. They were storytellers and there was a lot of humour and funny stories to be told of those times.
Is this a period in history that you are particularly interested and did you conduct any research to prepare you for the part?
I did a fair bit of research for the part but it's something I've always been quite interested in as an area of history. The Second World War fascinates me, but it was the reparations that were set in place following the end of the First World War that heralded the introduction of Hitler. I've always been interested in how people like Douglas Bennett were shunned within that community. They were ostracised which must have been very, very difficult. You're going totally against the propaganda and the general feeling of the country by actually standing up and saying, I'm a pacifist. That's an incredibly hard and brave thing to do and you suffer for it.
How do we see Douglas being affected by his beliefs?
Imagine being in a closed-knit community and people turn their back on you. Shopkeepers don't want to serve you in shops and shout at you in the street and call you this and that. I would imagine you have to be pretty determined and principled to stick to your beliefs in the face of popular opinion. So that was interesting and just the fact that Douglas is physically and mentally not very well wasn't really understood, certainly not in the wake of the First World War - shellshock was just frowned upon.
Today's soldiers have a diagnosis now in PTSD and we can see how it works on the brain and how these people suffered in silence. It's a difficult one. It's a difficult illness to talk about, especially during the Second World War, so for Douglas to actually stand up and say, I don't believe in it [the war], was a really, big and brave statement.
Character Descriptions
NANCY CAMPBELL
Played by Helen Hunt
American broadcaster and journalist NANCY CAMPBELL is addicted to war. She can't stay away. It isn't just the adrenalin, but the puzzle of war - the puzzle of human nature – she craves. NANCY, in Warsaw in 1939, crosses the border to Germany and spends the first eighteen months of the war in Berlin as part of the overseas press corps. Her ability to befriend her German neighbours as well as army officers sees NANCY report those stories at the very forefront of the Nazi regime; some they are happy to have broadcast to the world, while others, they are determined to keep hidden. No surprise then, that NANCY is driven by getting those forbidden stories out of Berlin - at huge personal risk.
ROBINA CHASE
Played by Lesley Manville
When her son HARRY, finds himself on the wrong side of the law protesting against Oswald Mosley, ROBINA CHASE despairs, only slightly comforted in the knowledge he is soon to travel to Warsaw for a job as a translator. After HARRY'S father died in the most tragic of circumstances, ROBINA was left to raise HARRY alone. She has done so with the sole aim of making him a man of great social standing, but so far, HARRY is proving only to disappoint. His love for two different women - both, in ROBINA's eyes, highly unsuitable - has far reaching consequences, and her frustration is exacerbated when HARRY returns prematurely from Poland, following the Nazi invasion, with a Polish refugee in tow. ROBINA - despite her will and better judgement - finds herself with a house guest she had never expected. Against the odds, the war is set to change this cold and austere woman, as much as it will HARRY.
DOUGLAS BENNETT
Played by Sean Bean
DOUGLAS BENNETT is a pacifist who was mustard-gassed in the First World War. He watches as his son and daughter go off to war, despite the fact that he is a pacifist. With both children away, he finds solace in unlikely friendships; with HARRY CHASE's mother, ROBINA, and the young Polish refugee she has reluctantly taken into her home. DOUGLAS's worst fear looks set to become reality when his son TOM finds himself aboard HMS Exeter, a ship that eventually faces German ship the Graf Spee in one of the first major battles of the war. Desperate for news of TOM, the uncertainty of his son's wellbeing and the haunting horrors of his own experience of battle look set to overwhelm him, until unexpected news from his daughter LOIS gives him renewed hope for the future.
HARRY CHASE
Played by Jonah Hauer-King
HARRY CHASE is a young Englishman with a flair for languages, deceit and heartbreak. A talented translator, HARRY is in Warsaw Woking for the British embassy. Caught in an explosive love triangle between his Mancunian girlfriend LOIS BENNETT, and local Warsaw girl KASIA TOMASZESKI, when war breaks out, HARRY has choices to make, fast. With KASIA's life in danger, he knows that there is one place she would be safe: Manchester. But how will he explain this to LOIS, and, what's more, to his mother? Funny, handsome and clever, life has been easy for HARRY so far – but war changes this forever. An idealist, a rebel, perhaps HARRY always just needed a cause – and the cause is the war. The series will take him all the way from Warsaw to Dunkirk, as he learns to lead, to fight, and to find out what he truly believes in.
LOIS BENNETT
Played by Julia Brown
LOIS BENNETT is a Mancunian factory worker. At home she is the lone girl in a family of men with the responsibility of looking after her fragile father and a wayward brother. Despite opposition from his snobbish mother, LOIS is in love with HARRY. HARRY betrays her with KASIA whom he meets in Warsaw. His betrayal seems to simultaneously break her heart and open her mind. Later, she will reflect that it was as though love blocked out the rest of the world; once he had gone, she could finally see what she was missing. A talented singer, LOIS and her musical partner, CONNIE KNIGHT are determined to make their own contribution to the war effort. LOIS finds her place – and adventure – in the form of ENSA, the War's Entertainment Corps, and heads off to perform for the troops in Northern France.
TOM BENNETT
Played by Ewan Mitchell
On the pull or on the make, TOM BENNETT brings nothing but trouble to sister LOIS and his father, DOUGLAS. With the police having caught up with him after his latest swindle, TOM avoids prison only by vowing to join the forces, when all the while he intends to dodge action altogether, as a conscientious objector. By the end of episode two, however, TOM has joined the Navy, and is about to face a personal and a military battle of equal, epic proportion.
KASIA TOMASZESKI
Played by Zofia Wichłacz
KASIA starts the war as a waitress in one of Warsaw's many bars and cafés, already in a passionate love affair with the young English translator, HARRY CHASE, unaware that he already has a girl at home. Her father STEFAN and brother GRZEGORZ depart for Danzig to defend against the imminent German invasion, leaving KASIA with mother, MARIA and younger brother, JAN, at home in the city. Within days of the war beginning, KASIA's family has each faced the cruel reality of this brutal conflict, and KASIA is faced with terrible choices between protecting her family and her own safety and freedom. KASIA joins the Polish resistance and her war becomes one of subterfuge, excruciating danger and constant fear of betrayal.
GRZEGORZ TOMASZESKI
Played by Mateusz Więcławek
GRZEGORZ TOMASZESKI is not built for battle. A naïve and loving teenager, he wants only to prove himself to his father. Entirely unprepared for the horror that awaits, GRZEGORZ heads to Danzig with STEFAN to defend the city at the outbreak of war, only to face tragedy before the day is out. Like his sister KASIA, life is set only to get tougher for GRZEGORZ, and the devastating battle at Danzig is just the beginning of his wartime anguish. He makes firm friends with KONRAD, a brave man more suited to the challenges conflict brings, and together they eventually flee Poland and make their way through Europe, in the hope their lives can be spared, as so many of their fellow countrymen brutally lose theirs.
WEBSTER O'CONNOR
Played by Brian J. Smith
When we discover WEBSTER in September 1939, he is working in the increasingly busy corridors of the American hospital of Paris. When France is threatened and occupied, despite the efforts of his aunt NANCY, WEBSTER stays in Paris and he fights. At first as a surgeon in a neutral hospital, and then a surgeon in a neutral hospital under Nazi occupation, WEBSTER finds himself fighting on all fronts; for his own identity and freedom, for his lover ALBERT's freedom, and for those patients who, as of May 1940, are prisoners of war. With the help of friend HENRIETTE, a local French nurse, they begin a system of smuggling patients out of the hospital and beyond, all beneath Nazi noses.
ALBERT FALLOU
Played by Parker Sawyers
Jazz musician ALBERT FALLOU is deeply in love with American doctor WEBSTER O'CONNOR. When the Germans invade, ALBERT grows worried for his and WEBSTER's safety, and for his own freedom as a Parisian of west-African heritage. When WEBSTER and his colleague HENRIETTE trial their plan to smuggle patients out of the hospital, ALBERT is keen to leave too, and turns to WEBSTER for help. WEBSTER is keen for them to stay put. Before long, however, ALBERT's fears become their reality, and he is interned in a camp just outside Paris, where he defies their racial profiling by forming a classical orchestra of inmates.
STAN RADDINGS
Played by Blake Harrison
HARRY's sergeant, STAN RADDINGS, is a working-class southerner with an enormous heart, sometimes concealed behind an unwittingly tactless exterior. A brilliant soldier, STAN is a committed, knowledgeable and loyal sergeant, and when, in their early days of battle, HARRY becomes overwhelmed by the task before him, STAN steps up to set him, and their unit, back on the right path.
HENRIETTE GUILBERT
Played by Eugénie Derouand
HENRIETTE is a nurse at the American hospital in Paris and WEBSTER's closest ally there. She is a brilliant nurse and they've grown close over time. HENRIETTE, as well as being a little in love with WEBSTER is also hiding a more important secret. When war breaks out, and Paris falls to the Nazis, HENRIETTE conceals her Jewish heritage, working with WEBSTER to smuggle French prisoners of war out of the hospital under the noses of the Nazi authorities.
Programme Information