What Remains
What Remains is a new thrilling four-part whodunit written by Tony Basgallop (Inside Men, Worried About The Boy), directed by Coky Giedroyc (The Hour, The Spies Of Warsaw) and starring David Threlfall in his first role since the infamous Frank Gallagher in Shameless.
Published: 14 August 2013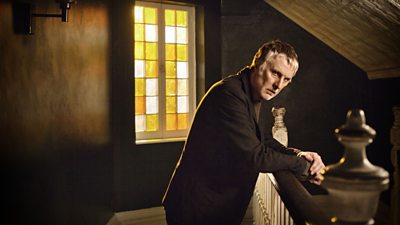 So here we have it: What Remains - a whodunit, set in a block of flats. Simple."
With a stellar cast including: Russell Tovey, Steven Mackintosh, David Bamber, Victoria Hamilton, Indira Varma, Claudie Blakley, Amber Rose Revah, Jessica Gunning and Alexander Arnold.
What Remains was produced by Grainne Marmion (Small Island) and executive produced by Hilary Salmon (Silk, Inside Men). The drama was commissioned by Controller of BBC Drama Commissioning, Ben Stephenson, and former Controller of BBC One, Danny Cohen, now Director of Television.
Made by BBC Drama Production for BBC One.
RN
Introduction by Tony Basgallop
So it's a whodunit, set in a South London block of flats, where all the neighbours are the suspects. Oh and the victim has been gathering dust for a couple of years because no one even realized she'd disappeared, and the cop has just retired but is pretending he's still in active service while he attempts to solve his final case.
What Remains is a very easy story to pitch, and I think that's why I like it. Having spent the previous year in LA "having meetings" I came to appreciate how important it is to be able to reduce your entire plot to three or four sentences, before receiving the inevitable Hollywood stare and a map to find your way back to the car park.
I hadn't written a whodunit before. In fact I've spent the majority of my career trying to avoid detective dramas and cops in general. I always said "No, thank you" when The Bill called. I've just never been a fan of the crime-solving genre. The writer's attempts to make the crime feel "personal" to the cop always seem slightly forced ("She was a Sagittarius, just like my dead wife!"). But I couldn't entirely avoid the boys in blue for this story. You can't have a whodunit without an investigator – people would complain! The solution for me was to find a way to have DI Len Harper (the awesome "post Frank" David Threlfall) not really being a cop at all. Once I made the decision that he was retiring midway through the first episode, the victim's character somehow fell into place with it. What connected the cop to the victim wasn't a star sign or an appreciation for Mexican food, it was that they were both lonely. They had reached a point in their lives where everyone had stopped noticing them. Len wants to solve this case because he doesn't have anything else to fill his days with, and gradually he's going to see that for himself.
I like to spy on my neighbours. Not in a blatantly creepy way, just the curtain twitching variety of spying. Watching them come and go at all hours, hearing them fight and scream at one another. We all wonder what really goes on behind those closed doors, don't we? We all take a sneaky peak inside their recycling bins when we walk by. I guess that's what I was trying to tap into when creating the suspects in this drama. There's the side of the neighbor that is real, and there's the side that we create in our heads. We may convince ourselves that they play their music too loud because they're selfish, when perhaps in reality they are merely attempting to drown out the screams of their victims. Perception versus reality. So I created these suspects – these little family units, stacked up like building blocks – by contrasting what their neighbours thought of them, to what they really are. And I suppose what connects the suspects to one another is that - like our cop and our victim - they are either lonely or terrified of being alone. And that's how we all go through life, isn't it?
So here we have it: What Remains - a whodunit, set in a block of flats. Simple.
Character biographies
DI Len Harper – David Threlfall
When the human remains of Melissa Young are discovered just a week before Len retires from the police force he finds it difficult to let the case go easily. A lifer in the force, Len comes from a family of coppers – doggedly working his way up from uniform to Detective Inspector in the old fashioned way. Len spent his life surrounded by friends and family, but having lost his wife only the year before Len finds his life turned upside down when he faces the emptiness he fears retirement will bring. Feeling alone and unwanted, Len refuses to allow Melissa to disappear without a trace, instead determining to uncover the secrets hidden behind the doors of 8 Coulthard Street.
Vidya Khan – Amber Rose Revah
Seven-month pregnant Vidya moved into Coulthard Street with her boyfriend the day the remains were found. A young couple preparing for the birth of their first child, Vidya and Michael are excitedly making their first home together. Signed off from work in the run up to the birth, Vidya has time on her hands and is determined to help Len find out what happened to Melissa, shocked at the other residents dismissive attitude towards their former neighbour. Alone in the flat every day the case is a thrilling distraction, but as they dig deeper Vidya begins to wonder if she's even safe in her own home.
Michael Jenson – Russell Tovey
Twenty-six-year-old Michael never got on at school, preferring to bunk off than attend lessons. Overwhelmed by impending fatherhood, he now works selling trainers and playing at being grown up, not managing either very well. When he recognises one of his new neighbours, Michael sees a chance to redress the balance and get even with someone from his past.
Elaine Markham – Indira Varma
Elaine is the strong-willed, no-nonsense partner of Peggy Scott. In her thirties, Elaine speaks her mind and always gets what she wants. She has the successful business and the relationship she wants, but the discovery of Melissa's remains causes it all to fall apart. Elaine doesn't hide her feelings towards Melissa – she never liked her much. Never one to suffer those less successful, before long we discover Elaine has a darker secret to do with Melissa.
Peggy Scott – Victoria Hamilton
Elaine's partner Peggy is the only one who can see beyond her hard exterior. The creative brains behind their business, Peggy is shocked and upset when Melissa is discovered, more sensitive than Elaine to the way they treated her before her death. As the pressure mounts on all the residents, Elaine's control increases, suffocating Peggy and leaving her unable to escape the guilt at her involvement with Melissa.
Kieron Moss – Steven Mackintosh
Since getting divorced four years earlier, Kieron has struggled to find a girlfriend that his son approves of. The editor of a local newspaper, he has learnt to keep his private life separate from his son's visits. A relationship built on weekly visits has left father and son far from close, in fact Kieron might even admit to not really liking his son that much at all. Kieron has many secrets to hide, and Len's investigation only serves to bring his demons to the forefront.
Adam Moss – Alexander Arnold
Seventeen-year-old Adam resents the separation of his parents, despite them both moving on. There is little that will get in Adam's way in his desperate attempts to reunite them. Behind the bravado lies a complicated boy who just wants his family back together, whatever the cost. Adam has grown up amidst his father's problems, resulting in him becoming a product of them. When Kieron finally lets him in to his life, Adam's threatening behaviour only increases, exposing his true nature to those around him.
Joe Sellers – David Bamber
Sixty-year-old Joe Sellers has always lived a solitary life. A stickler for rules and routine, Joe has lived in the house for 15 years and works as a maths teacher. On Coulthard Street he is the first to point out when anyone steps out of line, treating his neighbours as he would his pupils. Joe had previously cared for Melissa's mother, and Melissa's arrival left him angry at the loss of his close friend and companion. Living alone, it soon appears that not all is as it seems in the basement flat of 8 Coulthard Street.
Liz Fletcher – Denise Gough
A virtual recluse, Liz inhabits every corner of the house hidden from view. A secret from her past has caused her fear of the world outside, and with only one person she felt able to turn to, Coulthard Street became her sanctuary. After a chance encounter, Liz's confidence begins to grow and her unstable behaviour begins to get dangerously out of control.
Patricia – Claudie Blakley
Kieron's girlfriend Patricia is self-assured and confident. A career as a journalist has ensured she's never one to shy away from a story or from asking the tough questions. Kieron has kept Patricia at a distance from his son, but her independence makes it work, keeping her own place for the times Adam's visiting. When the two sides of Kieron's world collide, Patricia soon realises that Kieron's reasons may not be exactly what she'd first thought. As Kieron's demons re-emerge, and Adam's behaviour towards her begins to change, Patricia must revaluate the strength of her feelings for Kieron and just how much she's willing to take.
Related Media Centre Links
Related Programme Information
Related BBC Links
Related BBC Blogs
Tagged: